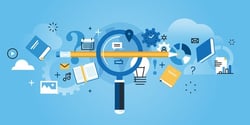 Modern blended learning is a solution to the challenges and obstacles we face when designing engaging, effective, and applicable learning. But before we go any further, we would like to clear up a few common misconceptions.
To start, modern blended learning is not just the same topic taught multiple ways. It is not always situated within a formal event led by an instructor. And it is not about teaching the same materials through a new form of technology delivery.
What is modern blended learning then?
Modern blended learning is selecting the most appropriate delivery technology, based on learning objectives with consideration of time, place, and space. It is the realization of a harmonic balance of instructional, technical, organizational, and delivery components in support of learner engagement and achievement.
When, Where, and How
In order to achieve this balance, we need to focus on the learner experience. We need to define and leverage how learning is structured when it is taking place, where it is taking place, and how it is being delivered.
In formally structured learning experiences, time, place and delivery modes are set. Proper sequencing leads learners through a scheduled beginning and a scheduled completion in a set environment (in-person or online). Learning events are sequenced to enable learners to practice and master a learning objective before mastering something else in the curriculum.
During informally structured learning experiences, learners are given more control of the learning materials they consume and of the time and way they access those materials. Learning can be self-directed and happen through curation, conversation, networking, and/or community involvement.
Five Moments of Need
Dr. Conrad Gottfredson and Bob Mosher offer a framework based on Five Moments of Need to help guide the design of effective learning solutions.
The Five Moments of Need (simplified) are:
when learning for the first time;
when learning more;
when remembering, applying, or adapting what has been learned;
when problems arise; and
when things change.
As learning designers, we have become skilled at creating learning solutions for "learning for the first time" and "when things change" events. Modern blended learning expands our focus to consider the other moments when learning takes place, and enables us to design improved learner experiences.
The Appropriate Time, Place and Space
For these experiences to be successful, we need to step away from traditional routines, and serve our learners both before and after scheduled "first time" events when they need to learn more, when they forget what they've learned, and when things go wrong. We need to ensure that learning experiences are made available and learning happens when, where, and how it is most appropriate.
Modern blended learning takes these approaches into consideration, aligning goals and objectives with learning materials, assessment, and modes of delivery. It is the re-imagination of traditional learning routines into a truly learner-centered journey.