This is the experience of one of our newer team members, Jackob G. Hofmann. Join his exploration of a new job, a new language, and a new computer. And a good bottle of wine.
Keeping Your Eye on the Ball
"OK, so we're just about ready to wrap up tonight's virtual training session on becoming an online producer. Before we sign off, does anybody have any questions regarding WebEx or anything else for that matter?" our facilitator, Clare, asks her virtual classroom of timid newbies.
"Yes," I sa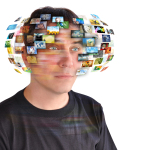 y. "I have a question."
"Go ahead Jackob. What is it?"
"Well, you mentioned a few times during tonight's session something about right clicking?"
"Yes."
"Right. Well, uh ... I'm not really sure what that means."
Silence. Finally ...
"You're a Mac person, aren't you Jackob?" Clare inquires.
"Hey, yeah! How did you know?"
"Lucky guess."
My first training session is a rude awakening. Not only am I clueless about what a producer is/does, I have zero experience with the basic operating functions of a PC. To make matters even worse, I'm a theatre major. Seriously, what have I gotten myself into?
I exit the virtual classroom, pour myself a large glass of red wine, and diligently review my notes:
WebEx is one of the platforms InSync uses for their training sessions.
A session window contains pertinent information regarding the training session.
There are many useful areas within the WebEx platform including: content windows, breakout rooms, chat panels, and whiteboards.
The producer is in charge of something called "the ball."
The ball can be passed to a presenter, panelist, or even an attendee.
Whoever has the ball has all the power.
Having "all the power" sounds like something I would normally enjoy but alas, when I am given "the ball" during tonight's session I feel rather panicky about it all--slightly overwhelmed. I mean, really, who am I to even have the ball in the first place? Isn't it all just a little bit too soon?
I was told by my InSync mentors that my experience as an NY theatre director/producer would be an asset and give me a creative edge in this exciting new line of work. Only time will tell I suppose. Perhaps all will be understood better once my PC arrives tomorrow and I master the art of "right clicking."
Now that I'm thinking about it, I better check and see if I have enough wine.
Think you have what it takes to be a producer? Check out our Master Virtual Producer (MVP) Certificate course and discover how you can earn your Master Virtual Producer (MVP) Badge by clicking on the graphic below.