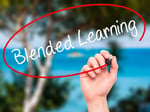 InSync Training believes in the power of blended learning. In blended programs, performance objectives are matched to the most appropriate medium to ensure that participants learn -- at least in part -- through facilitator-led delivery of content with some element of participant control over where, when, pace or path in the overall program sequence.
This video provides a detailed overview of the Managing at Mercer blended leadership program we designed using our expert blended learning instructional design approach.
To view this video, click here.