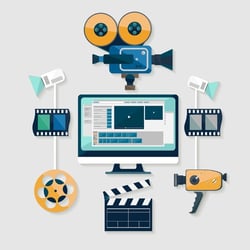 Back in 1922, Thomas Edison once predicted that the motion picture would transform the way we learn:
"I believe that the motion picture is destined to revolutionize our educational system and that in a few years it will supplant largely, if not entirely, the use of textbooks."
According to the book, The Flickering Mind, by Todd Oppenheimer, Edison had been "even more pedagogically expansive" back in 1913, when he said that film makes it "possible to touch every branch of human knowledge."
Research followed in 1939, when Henry Arthur Wise sought to prove Edison's forecast. Again, according to The Flickering Mind, Wise studied the impact of films on learning and found that the films helped "low-ability students to learn factual information, while helping high-ability students in acquiring spirit and atmosphere."
Spirit and atmosphere? To me, that sounds like engagement. Interesting.