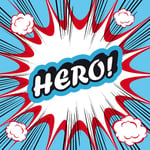 As instructional designers, we have an important common goal: impacting individual learners' personal learning paths.
Creating effective, dynamic training programs requires an involved process, including a multi-layered approach that asks a variety of questions including: How do we ensure our training has an impact during both formal and informal moments of learning need? What is an instructional strategy? How does EdTech influence our designs?
At a loss for how to get started? Fear not! Meet Donna Designer, InSync Training's Instructional Design Superhero!