The time has finally come to take the 'e' out of eLearning. (Pause for applause...)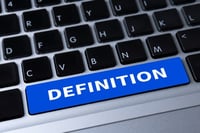 Words matter -- especially when trying to communicate new ideas and teach new concepts. Terms like microlearning, virtual classrooms, and mobile learning no longer resonate with our learners.
In this modern learning landscape, the old training language just doesn't work anymore. Terms like 'eLearning' and 'webinar' just don't represent what the modern instructional designer, or Learning Experience Architect, is trying to accomplish.
Their goal is to integrate content, exercises, and assessment, into a seamless curriculum, regardless of what delivery technologies or instructional pedagogies are used.