BYTE Session Recap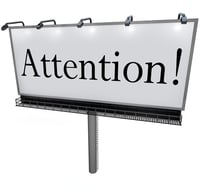 How do you capture your audience's attention when so many factors provide distractions?
Recently, guest BYTE speaker Mark Harter answered this question and provided pro-tips accumulated from years of practical experience.
Read on for three guiding principles you can use when working on new instructional designs and promoting training events.
Watch the entire webinar replay of, Grabbing Learner Attention, for a step-by-step process for creating a professional video studio on a budget, and tricks for making learning fun.