2016 Online Learning Conference Recap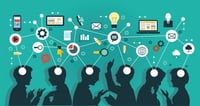 Greetings from Chicago! Members of the InSync Training team, including Jennifer Hofmann, have had the privilege of attending Training Magazine's 2016 Online Learning Conference (OLC). This three-day, in-person learning event highlights some of our most favorite things about our industry: a community of practitioners who believe in collaboration and the transformative power of online learning.
With learning legends and rising stars on the presentation agenda, the lessons learned were innumerable. In the spirit of the modern classroom, which supports skill-building through access to a myriad of resources, we would like to share takeaways from two of the keynote sessions, and some resources to support key themes present in the conference agenda.