We believe that organizational learning serves a higher purpose: we aren't just teaching people content, we're teaching people how to work. Understanding emerging trends, and how they'll impact work in the future, allows learning professionals to better support their learners. Virtual and augmented reality is already making waves in the workplace, and by extension, in training. Guest blogger Brigg Patten explores this new technology and its impact on learning and common workforce tasks.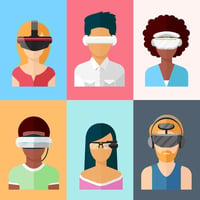 Virtual Reality and Augmented Reality at Work
Virtual (VR) and augmented reality (AR) are two technologies that are making waves in the workplace and are set to grow even more than mobile in just a few years. Companies are already making use of tools like Magic Leap from Google, HoloLens from Microsoft, and Facebook's Oculus. AR and VRs don't have restrictions when it comes to their usage in work environments. Although it is not exactly new technology, some companies have not gotten around to adopting AR and VR in their operations. For some companies that provide custom elearning solutions, it is a matter of not comprehending the role that AR and VR can play.