BYTE Session Recap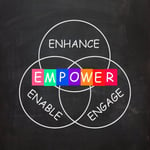 Organizations face a serious workforce challenge: many employees feel they lack the skills to perform their daily roles, causing them to disengage from work and their personal professional development.
How do we reengage employees and by extension, improve our organizational effectiveness? Training expert and guest BYTE speaker Cheryl Lasse believes personalized learning provides a viable solution.
She made a point during her session to highlight whether or not technology solutions can create the personalized learning experience modern learners need.