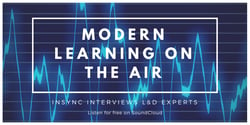 Often trainers become trainers because their organizations see them succeeding at their jobs. "Oh! You're a great customer service rep. You can teach other people how to perform customer service." "Wow! You created a beautiful new page for the internal website. Can you teach these three team members your process?"
Your competitive differentiators likely landed you the role of facilitator, designer, and sage.
But that puts you at a disadvantage. Modern learners require modern approaches, and when you start off as a Subject Matter Expert, you very rarely get support around the "brain science" piece of training. You don't have basic knowledge of learning theories, design theories, and strategies you can target and influence your instructional designs.