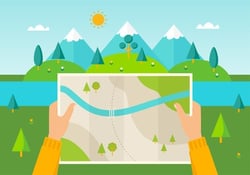 As a Learning Experience Designer, my job requires that I navigate a complex landscape. Each new project that I work on involves different parameters, sends me down unique pathways, and sets up obstacles along the way.
Even with many years of experience under my belt, I still find myself lost in this landscape at times. You may find yourself just as lost in your own work, too. As learning experience designers, we often work under compressed timelines and have to rely solely on our instincts and defined learning objectives to guide us toward a successful project outcomes.
It may surprise you to learn that the sport of orienteering (not your traditional instructional design resource) can provide us with some valuable guidance.