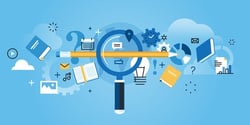 Modern blended learning is a solution to the challenges and obstacles we face when designing engaging, effective, and applicable learning. But before we go any further, we would like to clear up a few common misconceptions.
To start, modern blended learning is not just the same topic taught multiple ways. It is not always situated within a formal event led by an instructor. And it is not about teaching the same materials through a new form of technology delivery.
What is modern blended learning then?