Training Magazine Network Session Recap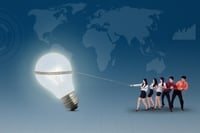 Several months ago, Jennifer Hofmann's presentation "How to Engage Modern Learners," explored the differences between Push training and Pull learning. Traditional training focuses on the Push – formal scheduled programs that provide planned, siloed instruction. Pull learning, on the other hand, uses a decentralized, learner-centric approach to make content readily available in a specific moment of learning need. Both Push and Pull play key roles in the modern learning culture.
Training Magazine Network's audience found this learning event so helpful, they invited Jennifer back to present "Pulling Learners to Your Content: How to Make it Work" on June 8. In this follow-up session, Jennifer discussed learner engagement in modern workplace learning, the five moments of need learners experience, and moving Pull learning from theory to practice.
This blog post shares a step-by-step approach you can use for creating microlearning Push activities, as well as an example of how to do so. To review all of the information covered in the June 8th session, access the full recording here.