Training Magazine Network Recap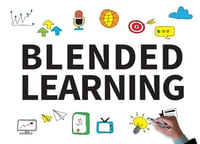 Training has a great track record of successfully teaching learners during formal events, but our programs often don't address informal learning. And we know learners build critical skills during unstructured, non-facilitated events, like Googling a term or asking Holly in HR for guidance.
How does Learning & Development get better at the thing we've traditionally been bad at? Jennifer Hofmann, graciously hosted by Training Magazing Network, shared an answer with fellow practitioners recently.
Modern blended learning, Jennifer believes, should be the new training norm. Nothing we design stands alone anymore, and no moment of learning need goes unaddressed. Every resource, live event, and social collaborative opportunity exists in support of each other and our learners.
This blog recaps key elements of Jennifer's session, The Right Stuff: A Model for Modern Blended Learning That's out of This World. To review all wisdom shared, watch the full replay here.