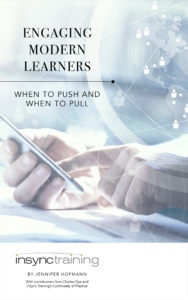 We've been hearing a lot lately about the modern classroom. What makes it different? How is it the same?
There's also been discussion about the fact that the way people learn in this modern classroom has not actually changed at all. Learners still need relevant, timely, and well-designed content. The foundational concepts behind adult learning principles still apply.
I happen to agree with that. There's a reason everything old is new again. What we used to call performance support, many now call microlearning. Reusable learning objects are also now microlearning. What we used to call "chunking" is now spaced learning. Case studies and role-plays now fall under the umbrella of simulations.
Research and experience have taught us a lot about how people learn, and what strategies in instructional techniques best enable that learning.