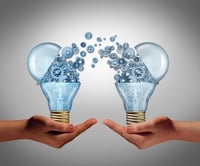 Success in the modern virtual classroom is not dependent on the technology, rather, success is dependent on the strength of the relationships between all members of the instructional partnership.
There are many individuals contributing to the success of virtual sessions: facilitators, learners, subject matter experts, instructional designers, just to name a few.
But when it comes time to go live in the virtual classroom, the partnership between the Facilitator and the Instructional Producer is responsible for the long-term success of the event.