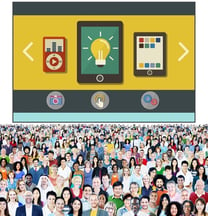 Training Magazine Network Session Recap
Training Magazine Network invited me to present my virtual session, Integrating Social Media into the Virtual Classroom, as part of their "Provocative Ideas Webinar Series." With over 150 learning professionals in attendance on September 23rd, many thought-provoking ideas were shared, and relevant questions asked.
I began the session by defining social learning as "learning that happens between peers." It can be helped along by people like facilitators, trainers and training departments. However, while we can embed the tools necessary for social learning into training events, we cannot force it to happen.