As more and more training functions move to a more modern blended design, we're integrating more models into a single program. Social learning, the process of learning from peers, is a particularly valuable option. By encouraging learners to collaborate and connect, we honor the way people have always learned: from one another.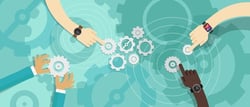 Despite the value of social learning, there's a stigma. How do you measure results of this format, and other informal learning treatments? How do we make sure learners share accurate information?
To help you get buy-in from stakeholders, learners, and your L&D peers alike, Jennifer Hofmann answered some of the most common social learning questions.