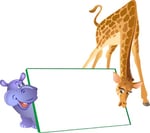 Storyboards go back to the 1930s when a Walt Disney animator began using them to organize cartoon scenes. In eLearning, a storyboard is simply a script that includes text, images and notes about how a learner is expected to interact with a learning module.
When used in creative work, storyboards allow instructional designers and trainers to see the "big picture."
Before computers, storyboarding was accomplished by making drawings or writing text on sheets or boards that could be posted on a wall for review. Contemporary storyboarding is often accomplished by using slide presentations, which makes the components of storyboards easy to manipulate and share when a team must collaborate on a project.