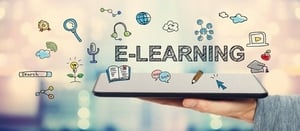 Virtually There Session Recap
"Build an eLearning course," they say. "It's what you're great at! You can have it done by Friday." Sound familiar? eLearning's popularity as both stand alone instruction and part of a larger blend makes it a standard in many instructional design portfolios. Unfortunately, the "go do that thing you do" mentality reflects a general misunderstanding of the complicated nature of eLearning production.
When faced with such a disconnect, how do we design impactful modules with a limited budget and an overwhelming number of tools available for purchase?
Kevin Thorn, Chief Nuggethead and corporate training expert, provided a helpful framework for building an eLearning design, development, and production toolkit consisting of free and paid tools.