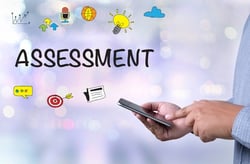 The art in design is that of keeping learners accountable in authentic assessment that ensures students' success in the virtual classroom. We know learners attain more when given the ability to learn in authentic ways, but we believe that assessment is a key piece in the art of keeping learners accountable.
Last week in my blog we talked about keeping it about the people, interacting, providing opportunities to collaborate and how to hold learners accountable. Easy to say! Right?
But how do we REALLY maintain a culture of accountability without the benefit of eye contact and body language? There is a real need for accountability when we ask participants to go out and do an independent and/or collaborative activity, but often in the virtual classroom we can't find the way so we just instruct them or skip it all together.