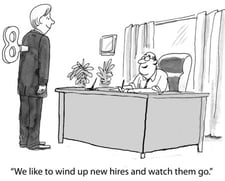 I'm frequently asked, "When is a good time to introduce virtual classroom training programs to my organization?" As with most innovative learning approaches, organizations may resist adopting virtual classrooms, since they're different from the status quo. Equally as important as implementing the virtual classroom model correctly, is selecting the right program with which to introduce the approach to your corporate learners.
New hire training is the perfect place to introduce virtual classrooms as a learning option, even if all of the new hires are co-located in the same physical space. I know, I know - if you can easily get them into a traditional classroom, isn't that better? Well, no.
Introducing the virtual classroom to your organization during new hire orientation increases technology adoption across the enterprise, accelerates learning for the new hires, and is authentic.