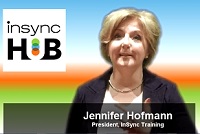 Interested in learning more about the new InSync Blended Learning Hub and how it was designed?
In this video, Jennifer Hofmann, President of InSync Training, discusses the impact of a blended approach on learners and learning professionals, as well as how this influenced the Hub's design.
Why is the Hub important for you? Watch this short video as Jennifer answers this question and more.
To view this video, click here.