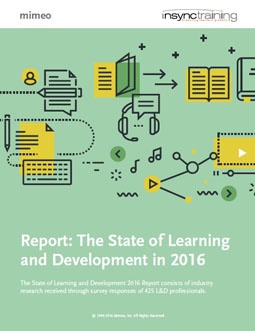 How do L&D professionals adapt to a rapidly, and constantly changing, learning landscape? The first step is to understand the environment we're working in.
In partnership with Mimeo, we surveyed over 400 learning professionals via multiple choice and open-ended questions on a number of topics, including their own experiences in the industry, and emerging trends. We reviewed, compiled, and synthesized this information in our new eBook, The State of Learning and Development in 2016.
We learned that the industry is at a crossroads, with teams who are both comfortable with technology, and under-resourced. For example, "The average L&D professional fulfills three different roles every day," but, "Only 9% of L&D teams don't use any learning technology."