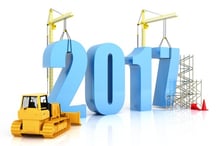 Welcome to 2017, the year when it all comes together. Learning technologies (EdTech), communities of practice, lifelong learning, and the myriad other great
Of course, to meet this resolution, we need to be learners first. There are so many resources available to us, and it's difficult to figure out where to start. It's even more difficult to narrow down the topics we should focus on. concepts we've been hearing about for the last two decades. This is the year learning professionals have a common New Year's Resolution for 2017: we are going to provide the best content to our learners, using the best technology, and ensure that it is delivered to the right place at the right time.
To this end, InSync Training is kicking off the year with "50 Modern Learning Blogs in 50 Days."
Between now and March 10th, InSync will share a new post each day that will include a variety of resources like links to experts, infographics, and our opinions on key topics related to today's modern learning environment. We know that not all learning content is relevant to all learning professionals, so each day of the week will focus on a different theme, and you can choose which topics are worth your valuable attention.

Monday - Each week starts with posts related to managing the change. We'll introduce topics like how to identify moments of learning need, and where to start your blended learning initiatives.
Tuesday – On Tuesdays, we go back to our virtual classroom roots. InSync started as an organization passionate about the quality of virtual classrooms. We explore how we manage global virtual classrooms, and how to embed a culture of accountability in our virtual classes.

Wednesday - Wednesdays focus on modern instructional design techniques. Posts cover topics like problem-based learning, case-based learning, and find answers to questions about which treatments make sense in specific learning design scenarios.

Thursday - Thursdays are all about engaging through learning technologies. In this topic, we will discuss what different technologies are and give you some great examples of how we can them it as an engagement tool in the learning environment. Look forward to introducing yourself to using social collaborative tools and augmented reality in your blended learning programs.
Friday – We end each week by talking about you -- after all you are a modern learner. We'll talk about how to create your own personal learning pathways, and how to curate social networks that ensure you're learning what you need to when you want and need it most. Also, we will spend some time discussing how you can give back to your network and become a valuable member of a learning community.

We want to hear from you. We want this to be a place where dialog starts. The modern blend is about networked learning, it's not unidirectional. Tell us what topics resonate, where we should dig deeper, and what resources you include in your own Personal Learning Network (PLN) that our larger community can utilize.
Let's make 2017 the year we make blended learning work!
Related resources:
Book: Learning in the Modern Workplace (Jane Hart, 2017)
I am looking forward to Jane Hart's new book coming out in January, 2017, titled Learning in the Modern Workplace, especially Chapter 1, which focuses on "Understanding the Need for Change." Jane's work on Modern Workplace Learning (MWL) literally refocused my attention, and reinforced that the learning function does not exist to be an order taker; rather, we need to become partners with the business.
Visit Jane's site to learn more.
Case Study Toolkit: Enabling Virtual and Blended Learning Success: An SAP Case Study Resources include an infographic, webinar recording, and multiple blog posts.