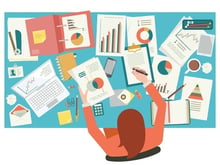 On Fridays, this blog series will explore YOU as a modern learner. This doesn't just happen: becoming a successful modern learner means taking an active role in creating, curating, and maintaining your Personal Learning Network (PLN).
Last week, I discussed how to design your personal learning path, using foundational instructional design techniques. Part of that approach is to identify the experts, websites, social media channels, and other resources that will comprise your Personal Learning Network, or PLN.
This week, I came across a great definition of a Personal Learning Network:
"A Personal Learning Network is a way of describing the group of people that you connect with to learn their ideas, their questions, their reflections, and their references. Your PLN is not limited to online interactions, but it is that online, global interactive part that really makes it special. It is personal because you choose who's part of that group; you choose if you want to lurk–just check out what people are saying–or if you share; because you choose when to do so, and how to do so." Marc-André Lalande
Everyone is Awesome!
There are many experts and knowledgeable sources out there. It is very easy to try to learn from all of them. For example, I am subscribed to about 35 newsfeeds (including ElearningLearning, eLearningFeeds, eLearning Guild, ATD, and TrainingMag Network to name a few), am a member of 11 LinkedIn Groups, and follow 1000+ people on Twitter. These groups consistently send me information about free webinars, online courses, articles, whitepaper, and general discussions. It's great! All of the information on the internet at my literal fingertips.
But it is TOO MUCH! I decided it was time to stop the madness and start to manage the information overload that is so insidious when it comes to social learning, and start managing my PLN.
The first thing I did was use Google to search for "How to Manage Your Personal Learning Network", which seems a bit counterproductive, because I wound up adding David Kelly's personal blog and a few other sites to my already growing list of resources. Then, I got serious and created a plan.
Taking It All In – Techniques to Manage Social Content Overload
Establish your preferred "Push" and "Pull" learning resources. What information is worth going out and finding? Do you rely on infographics versus blog posts? Do you go to curation sites (Like eLearninglearning) to find content, or wait to receive weekly email updates? Start to keep a list of content you consciously go and look for, versus what content you engage with because it was more passively pushed to you.


Create your own keywords. You have already established learning goals, and you know you can't learn everything right now, so don't be (overly) distracted by new terms, tools, or techniques. Some of my keywords are "virtual learning" "virtual classrooms" and "blended learning."


In your networks, create and save searches so you can catch up quickly.



In Twitter, search for your key terms using hashtags, then save the search so you can repeat on a regular basis. (ie: #virtuallearning, #virtualclassroom, #blendedlearning). You'll start to see the experts emerge as you follow these conversations.


Create a Twitter list of people posting in your field so you can be sure they show up in your Twitter feed. Or, you can look at just that list of people. This is a much more efficient way to use Twitter for learning, and it also helps to ensure you don't miss relevant posts. This post explains how to create a Twitter list.


In LinkedIn, identify and join the groups that relate to your specific learning goals. Read some of the historical posts, and make sure they are valuable to you.



Look for people that use similar keywords, and use their resources! These people won't be difficult to find. Start by looking up the Twitter and LinkedIn profiles of authors and speakers you already know have an interest in your learning goals, and just steal (ahem, 'adopt') those lists. This post provides guidance on how to find lists in your industry.


Before spending an hour watching a webinar, look for infographics, blog posts, and articles by the same person on related topics. You can decide if attending an hour webinar is valuable AND make an informed decision about whether that person should be part of your PLN.


Create a schedule that makes sense. For example, you can commit to some basic rules that aren't overwhelming.



Listen to podcasts twice a week while on a treadmill or while driving. (Hands free, of course.)


Review Twitter lists once per day, for 10 minutes. I do this at the end of the day so I can see entire topics play out before everyone stops for the evening.


Check your LinkedIn Groups and Facebook groups twice per week. Again, this allows you to see entire discussions played out, and provides the opportunity to contribute. (More on giving back to your network next week.)



Allow yourself time to 'check in' with your network, but don't get lost in the noise. Social learning is, well, social. To be fully engaged you'll want to see updates in Twitter, LinkedIn, Facebook, and other learning communities, etc. that aren't specifically related to your learning goals. Make a conscious decision about how much time you can afford to dedicate to these relationships, and schedule time to get it done. (I appreciate that this is easier said than done.)


Take control of your inbox. You get dozens, if not hundreds, of email messages pushed to you from your networks every week. Use your email tools to do some of the sorting for you. For example:



Create an email box called "Reading List", and every time you get a content notification via email either unsubscribe or create a rule that sends everything from that source to the reading box.


Sort that email box by sender, so when you review the information you'll be able to notice conversation threads. It will also quickly become apparent which content sources you don't find valuable.



It's ok to hit "DELETE." If I don't read the 200 emails I get from my network while I am on a week of travel, I delete them. The important content is assuredly somewhere in my network, and I'll either find it or it will be pushed to me again. Really. It's ok.
By strategically managing the learning content within your PLN, you'll learn more in less time and will minimize the dangers of getting overwhelmed! And you'll be better prepared to give back to your network.
Next week, we'll provide guidance on how to do just that.
Related resources
Book: Social Media for Trainers by Jane Bozarth. Jane is the preeminent expert on social media for learning. Her book provides an introduction to using these free social platforms within the context of training, and shares actionable advice you can use right away.
Handbook: Social Learning Handbook by Jane Hart. Jane's work has deeply influenced my own approaches and this handbook not only introduces workplace learning, but it also includes social learning tools and strategies.