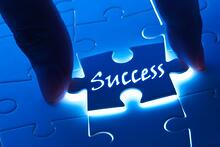 This is the first post in a series of eleven which will examine how to motivate the virtual learner.
This is also the second post in a series of six which examines how to enable virtual learners. The first post, Enabling Virtual Learners by Design: Introduction, introduces the series.
We all understand how to learn in a traditional classroom environment. We've been doing that for most of our lives. It's comfortable and we know what to expect.
The virtual classroom has introduced a new learning culture - one that takes time to become familiar with. Organizations spend a lot of time planning for, and investing in, technologies - but often forget about the culture change involved with this new learning environment.
In order for virtual learning to be successful, we need to create environments in which people can effectively learn. Our participants need to be open to learning in this new way, and confident that their time in the virtual classroom is well-spent.
it's time to take a detailed look at motivating virtual learners to actually learn.
Over the next several weeks we will be taking a close look at what motivates the virtual learner. As you review the tips we will be presenting, you'll see that motivation often comes down to answering the question, "What's in it for me?" The latest technologies and best designs won't mean a thing if you can't answer that question for your participants.
So how do we motivate our virtual learners? So glad you asked!
These 101 tips presented over 10 posts should help answer that question and provide valuable ideas to keep in mind when designing your courses and interacting with participants.
We'll be exploring tips in these categories:
1. Publish requirements and set expectations ahead of time.
2. Establish relevance for the virtual learner.
3. Provide continuous encouragement throughout the entire virtual experience.
5. Provide organizational support for the virtual learning process.
6. Implement an internal marketing plan to encourage adoption.
7. Establish, and enforce, a management mandate.
8. Provide rewards and recognition for virtual learning participation and success.
9. Publish success stories.
10. Design for virtual learner success.
We hope you'll join us. You'll be amazed at what a difference a little motivation makes.
To get all 101 Tips To Motivate the Virtual Learner right now, click on the graphic below.