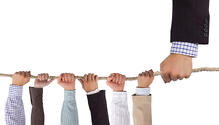 This is the eighth post in a series of eleven which will examine how to motivate the virtual learner. The first post introduces the series.
Motivation Category 7: Establish, and Enforce, a Management Mandate.
If potential participants know that management is behind a virtual learning initiative, they'll be more inclined to sign up. Get management involved by inviting them to record short "welcome" presentations for participants and encourage them to participate throughout the curriculum. Management buy-in can be extraordinarily helpful in getting participants involved and motivated!
Tip #61: Make management responsible for the final evaluation, because management is ultimately responsible for determining whether or not behavior has changed or skills have been learned.
Tip #62: Part of a manager's performance review should include the percentage of his/her employees that have participated in virtual learning.
Tip #63: Professional development budgets should encourage the participation in any type of virtual learning - not just those offered by your organization.
Tip #64: Create a learning plan for the management team. Illustrate milestones, objectives and the processes that participants will complete during the training. Outline specific dates and include invitations to the management team to participate and evaluate the process.
Tip #65: Invite managers to participate right from the beginning. Whether it is to proofread communications or participate in ongoing courses - get them involved early and often. Have management spread the word about the value and importance that the organization is placing on this virtual learning initiative. Employees look up to management, and if managers are taking it seriously, so will your participants.
Tip #66: Include managers throughout the entire process. Small things like their presence at initial sessions and signatures on communications will communicate that the training process is a very important and serious venture. Management should also be made aware of feedback and changes made to the program based on that feedback.
Tip #67: Include virtual learning as part of the performance review. Advise participants that this is a part of their "regular" employment at your company and that management will take into consideration their participation and success in the virtual learning initiative as part of evaluating their overall job performance.
Tip #68: Dedicate a session specifically for educating management about the training. Tie the learning to corporate goals and objectives and provide links to outside sources (customers, suppliers, vendors) where the management team can go to learn more about virtual training.
Tip #69: Require management approval before an employee can sign up for a course and have the manager sign off on any "expectations" they have for the employee as a result of attending. By putting a formal process in place, participants will not only be responsible for the course content but also for how it will be applied within the organization.
Tip #70: Make it easy for managers to stay informed. As the facilitator, you can supply management with survey results or other assessment tool results to communicate how the virtual learning initiative is being received and what business goals have been achieved.
Okay, 70 tips down, 31 to go!
To get all 101 Tips To Motivate the Virtual Learner right now, just click on the graphic below.