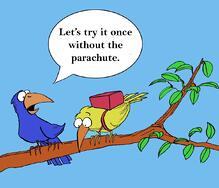 This is the fourth post in a series of eleven which will examine how to motivate the virtual learner. The first post introduces the series.
Motivation Category 3: Provide Continuous Encouragement Throughout the Entire Virtual Experience
Participants can quickly lose motivation by feeling "lost in cyberspace." Email and other communications are great, cheap, and easy ways to encourage your virtual learners. Knowing that a real person is watching out for them helps humanize the virtual environment, and motivates participants to stay engaged.
Tip #21: Encourage participants to extend the training beyond the class by coaching each other after the session. This will encourage open discussions and allow the participants to learn from each other as well as foster a sense of community and collaboration.
Tip #22: Keep in touch with participants throughout the course. Send out email reminders and offers of assistance and personally call participants who miss a class to discuss makeup options.
Tip #23: Create an incentive plan to encourage participation throughout the program. Everyone loves working towards something tangible. (See our tips on Rewards and Recognition for ideas on how to implement an incentive plan.)
Tip #24: Acknowledge your participants by thanking them for a response or comment during class and follow up your final class with a thank you note. Words of thanks can go a long way. Their effect can be just as effective as offering tangible rewards.
Tip #25: Celebrate small successes by sending emails or posting the "good news." Acknowledge milestones publicly and personally. This will foster a sense of continuity and support throughout your training initiative.
Tip #26: During class, call on your participants by name - make it personal and positive. Continuous encouragement is critical. Stay close to your participants and let them know that you were once in their shoes.Creating a learner-centered approached goes a long way towards motivation.
Tip #27: Encourage collaboration between participants and the training team. Make sure they understand that everyone is in this together and as a team many accomplishments can be achieved. Each individual will bring something unique to your class; acknowledge that unique spirit and create a team effort.
Tip #28: Support self-directed components by contributing and participating as frequently as possible. Don't let the offline time become unimportant - value it as much as you value your live virtual classes. Provide positive feedback in the discussion boards and use probing questions to encourage participation.
Tip #29: Be positive and encouraging but don't overdo it because then the praise will become insignificant. Stick to your objectives. When your participants successfully achieve these objectives, provide your positive words appropriately. Make sure feedback is substantive and useful.
Tip #30: Have participants vote on the best social media response of the week. Offer the best "posters" a reward - either a tangible one or recognition of some sort. At the beginning of the next live virtual session, the facilitator can announce which posting received the most votes. The winning post can be read and used as a launching point for new discussions.
Okay, 30 tips down, 71 to go!
To get all 101 Tips To Motivate the Virtual Learner right now, click on the graphic below.