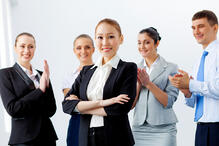 This is the sixth post in a series of eleven which will examine how to motivate the virtual learner. The first post introduces the series.
Motivation Category 5: Provide Organizational Support for the Virtual Learning Process.
One of the most difficult parts about learning at one's desk is the constant interruptions by those working around you. There is a perception that virtual learning can be interrupted - but the reality is that once a participant has been interrupted several times, retention fails and the chances that the program will be completed is dramatically lessened. If participants feel they need to work after-hours in order to complete a program, they will grow to resent the virtual classroom. One of the most important things you can do is create an organization where virtual learning is valued and considered a "Do Not Disturb" activity.
Tip #41: Provide a manager orientation to virtual learning so managers can both participate in the experience and understand the importance of the time commitment required of participants.
Tip #42: Encourage everyone in a team or unit to complete the course together - even if they must take the course on alternate schedules to allow for departmental coverage. This enables participants to learn from their supervisors and peers, and can assist motivation by encouraging a "we're all in this together" mentality.
Tip #43: For intact workgroups participating in the same class, the supervisor should send out the initial communication to participants. The facilitator can write the communication but it should be sent from the supervisor's mailbox. The supervisor should also follow-up after class with a "How was your experience?" email.
Tip #44: "Off Limits" or "Do Not Disturb" signs are invaluable to preserving one's learning time and concentration. This may be as simple as tying a ribbon across the entry to your cubicle or wearing a "learning hat" that signals "If I'm wearing this, I'm learning. No interruptions!" Be sure to suggest these ideas to your participants.
Tip #45: Use a supervisor or a past participant to "team-teach" a class with you. Participants will be able to identify with this person since they are from the same workgroup.
Tip #46: Virtual learning can be an opportunity to give participants access to people within the organization they may not ordinarily have access to. Invite internal "guest" speakers to make brief presentations to your class. When participants are familiar with a person's name or title, they typically enjoy the experience of having one-on-one time with an internal expert, authority, or manager.
Tip #47: Develop an internal communication forum so that new participants can gain insight from experienced virtual learners regarding how to solve problems they may be experiencing. Link every online course description to this forum so that all individuals can have immediate access to internal expertise and advise.
Tip #48: If participants would have otherwise attended training during their regular workday, the virtual learning initiative should be no different. Establish a prohibition of "off-hours" participation. This includes weekends, after-hours, and lunch breaks.
Tip #49: Create an orientation to the virtual learning experience. Virtual learning and the virtual classroom are new and mysterious (and often intimidating) to most individuals. A playful and fun "let's get to know what virtual learning is all about" orientation will go a long way toward creating an organization that embraces virtual learning as a regular course of business. InSync's Learn How to Learn Online course is offered weekly and we've made it a prerequisite for any of our virtual training courses.
Tip #50: Take advantage of the time flexibility virtual learning provides to create scheduling options conducive to a variety of people's schedules. Since no live virtual class should be more than two hours, it is possible to offer many choices, such as early, mid-morning, late afternoon, etc.
Okay, 50 tips down, 51 to go!
To get all 101 Tips To Motivate the Virtual Learner right now, click on the graphic below.