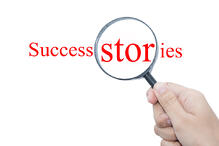 This is the tenth post in a series of eleven which will examine how to motivate the virtual learner. The first post introduces the series.
Motivation Category 9: Publish Success Stories.
Publishing success stories about virtual learning in your organization is a great way to reassure tentative new participants that they can be successful learning in the virtual classroom. Use those success stories to supplement your marketing effort.
Tip #81: Pilot your program and make appropriate or necessary changes. Use the results of the pilot program as a published success story of what worked and how new improvements have enhanced the course. Publish results in the company newsletter, send a special email, or just post them around the water cooler area.
Tip #82: Write "stories" with real responses from real participants. Be creative and sprinkle these comments throughout your publications about the virtual learning initiative. To give you ideas, here are some of our client's success stories they've written about what they learned from our courses here at InSync Training.
Tip #83: About a month after the course and after all work has been submitted, be sure to follow up with your participants to see how they're implementing what they've learned. Evaluate the transfer of learning that is taking place, and publish stories about successful learning transfers that have taken place throughout the organization.
Tip #84: Look to other divisions of your company or even to entirely different industries and organizations for successful stories. Use their successes as examples of how virtual learning can benefit your own organization.
Tip #85: Offer to speak at industry events and professional organizations about the success of your virtual learning initiative. This will enhance the reputation of your organization as a thought leader in the virtual learning arena. People are naturally attracted to work at, or stay with, organizations that are deemed to be the best of the best. And external attention never hurts when trying to build management engagement in virtual training either!
Tip #86: In your chosen communication medium, highlight participants who are surpassing expectations. Interview them to illustrate to others how the course has assisted them in their work. Also, include a contact option (extension, email address) so that future interested participants can ask additional questions.
Tip #87: Develop a mentor program by asking participants from the first round of successful courses to mentor or coach future participants.
Tip #88: Be sure to link all success stories to the company mission statement, performance policies, and professional development procedures. Highlight the improvements in areas that have been affected by the virtual learning initiative.
Tip #89: Use individual success stories as a tool to track achievement. For example, publish an individual follow-up story after a year that highlights "Here is XX now," and illustrate how the training has impacted the person's professional career.
Tip #90: Ensure facilitators are acting as advocates when they have exposure more than virtual participants. When they are delivering face-to-face programs or interacting with other parts of the organization, make sure they "talk-up" the successes they are experiencing in the virtual environment.
Okay, 90 tips down, 11 to go! I'm getting excited!
To get all 101 Tips To Motivate the Virtual Learner right now, click on the graphic below.