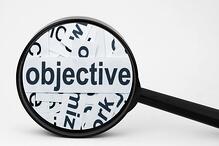 This is the second post in a series of eleven which will examine how to motivate the virtual learner. The first post introduces the series.
Motivation Category 1: Publish Requirements and Set Expectations Ahead of Time
Getting more work than you bargained for or taking a class that isn't appropriate isn't only demotivating, it can be downright aggravating. Armed with enough information about course requirements, participants can make an informed choice about the appropriateness of the course or the time commitment involved. If the course is required, individuals can try to balance their schedules to accommodate the workload and can inform supervisors regarding any impact on normal duties.
Tip #1: Create a course description which links the objectives of your course to the professional development of the participants AND to the business goals of the organization. Posting this on a website allows you to take advantage of hyperlinks and ensure that information does not go out of date, and enables potential participants to do their own "research" and make decisions about the relevance of a course to their work.
Tip #2: Create a course website that includes: a detailed course description, schedules, learning objectives, work assignments, testimonials, training blend, FAQs, and time investment. Whenever you communicate with participants about virtual courses, be sure to reference the website so that it becomes "the spot" for all virtual learning information. A great place to start is a course map.
Tip #3: Start a newsletter to share your participants' enthusiasm and experiences. Use the newsletter to acknowledge participants' milestones and goals and to let them know about upcoming courses. Publish the newsletter on a regular basis so participants begin to look forward to receiving it. If you'd like to see an example of InSync's newsletter, sign up here.
Tip #4: Establish a support plan. Let participants know how to contact technical and instructional support. If they know that help is there when they need it, they will feel much more comfortable about entering the virtual learning arena. Support can include help desk phone numbers, virtual office hours, a list of important emails addresses and URLs, and contact information for the facilitator (and producer if you're lucky enough to be using one).
Tip #5: Participants should be expected to commit to all course requirements. Attendance policies should be enforced. Not only will individuals miss valuable content if they skip sessions, the value of the virtual learning experience will be undermined if participants are allowed to pick and choose which sessions to attend. (This applies to all sessions in the blended design, not just the virtual session.)
Tip #6: Establish and publish a set of ground rules regarding how the participant should behave while participating. Include information that will help your participants understand what is expected of them. And don't forget to include some type of checklist they can use beforehand so they are ready and prepared for each class.
Tip #7: Let participants know how often they will be hearing from you and what will be contained in the various communications (see the next tip for more information). You want to ensure participants don't miss important communications because they didn't read the email.
Tip #8: Include in all communications:
What to do when a session is missed.
What to do to prepare for the next session.
The information needed to attend the next session (URL, date, time, phone, etc).
Tip #9: Offer orientation sessions that familiarize the participants with the technological interface and allow them to "play " and experience a virtual class. We call ours Learn How to Learn Online and it's a prerequisite for all of our virtual courses.
Tip #10: Post recordings or excerpts from courses on the company website so that individuals can get an idea of what virtual learning is all about without having to sign up and commit to a course. Make sure you include a demonstration of important components such as synchronous classes, discussion boards and tutorials.
Okay, 10 tips down, 91 to go!
To get all 101 Tips To Motivate the Virtual Learner right now, click on the graphic below.