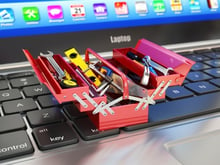 We opened this series by introducing six technology toolbox compartments that are used in blended learning to provide content, develop interaction, and perform assessment. Knowing which tools to use in each piece of your modern learning design improves the learning experience. This week, we'll start our deeper dive into these compartments by looking at knowledge and content technology tools and apps.
EdTech Tools and Apps for Creating Documents
I use the standard tools and apps including Microsoft Office Suite, Google Docs, Open Office, Adobe Acrobat, InDesign, and Framemaker. A few mobile apps I have explored are CloudOn and iWork. Both of these are much easier to work with than Mobile office, and cost less than $10 each.
EdTech Tools and Apps for Creating Presentations
PowerPoint, Keynote, and Prezi are my standards. I have just started using Google Slides, and I do like the results. Cloud based applications like Clear Slide and Slide Bean enable us to work and present online, but can be costly. Slides.com and Haiku Deck are my favorites, but they cost about $10 a month.
EdTech Tools and Apps for Creating Graphics
I love working with graphics, and have accounts on iStock, 123RF, and Deposit Photos. I use Photoshop and Fireworks to create and edit images, and Canva and Piktochart to create infographics. I also use Tableau (high learning curve and $$$) to explore data for my any visualizations that I work with.
EdTech Tools and Apps for Creating Interactive eLearning
Captivate, Lectora, Camtasia and Articulate are the big names in this area, but take some time to explore Adobe Presenter and Office Mix. They're both add-ons to PowerPoint that let you build in a bit of interactivity, without breaking the bank. I've been doing a lot with Office Mix lately (trying to break it), and I'm very pleased so far.
EdTech Tools and Apps for Creating Audio
I'm a big fan of podcasting these days, and I use Zencastr to record my sessions. I've used Audacity to record and edit audio, and am currently using Adobe Audition to edit. I'll let you in on a big secret here – I use my phone to record audio most of the time. There are hundreds of audio recording apps for the iPhone, and I mostly use Just Press Record when I need to record!
EdTech Tools and Apps for Creating Video
I have used PowToon, Office Mix, and Camtasia, to create videos. And, I use my iPhone and iPad to capture a lot of the video I work with. You can use online tools like VideoScribe to create some fun presentation materials, but be sure that whatever you can create, you can edit. My one go-to for Microlearning videos is Adobe Spark. It is SO easy to use, and I have created professional looking videos in minutes!
EdTech Tools and Apps for Creating Screencasting
We use screencasting tools to share demonstrations, and screen walkthroughs. I use Captivate, Camtasia, and Office Mix for my screencasting, and if I have something simple and quick to do, I use Jing. These tools all work the same, but there are more editing features in the higher end products.
Always Keep in Mind
Many of these technology tools and apps come with associated fees. Explore pricing and keep an eye on monthly charges (and when they renew). With larger companies buying smaller companies, pricing can change overnight. I know this from experience.
The most important feature related to ANY knowledge or content technology tool or app is the ability to make changes and edits. We all have experience working on a project with last minute changes. So, as you're exploring some of these tools, or just reviewing what you have in your toolbox, take some time to think about how easy (or hard) it is to make changes in your knowledge or content materials.
Towards the Future
The internet has lowered the cost of contributing content across the board. In the future, I see prices coming down on many of these applications, alongside more ease of use.
And, in my crystal ball, I see that many of the standard knowledge and content technology tools and apps that you use today will integrate and work better with your mobile devices, and offer more (and better) voice-to-text functionality.
Come back next week for a deep dive into Communication and Interaction Technology Tools and Apps!
Related Resources
Article: 11 Tips To Choose The Best eLearning Authoring Tool
This article by Christopher Papas provide guidance on what to keep in mind as you're exploring eLearning tools.
Article: 5 Tips for Choosing the Best Tech Solutions for Your Business
Although highly simplified, I like this article because it boils everything down to thinking about how you serve your customers – in our case, our learners.