According to Bersin by Deliotte, the modern learner is overwhelmed, distracted, and impatient. Sound familiar? And, on the up side, the modern learner is untethered, accessing information on-d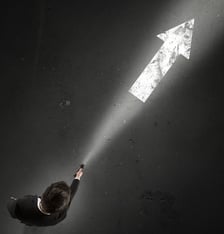 emand, collaborative, and empowered.
These new ways that we access information, contribute content, interact, communicate, collaborate, and create new knowledge is made possible by new technologies and innovations in old ones.
The modern learner embodies this change and possibility, gives us the opportunity to shake up the way we've been doing the same old thing, and breathe new breath into the way we serve our learners in their moments of learning need.
We know that modern learners have a lot of choices in how they can learn, and we need to better understand and engage them as partners in this learning landscape. It is not enough to take what we used to teach in the face-to-face classroom, and give it a modern makeover.
We need to really think about what our modern learners need (and when they need it), so that we can prevent them from being overwhelmed, mitigate those distractions, and help to make sure that they don't lose patience.
We turn to Dr. Conrad Gottfredson and Bob Mosher's five moments of learning need to better understand our modern learners. The premise is that we need learning:
When learning for the first time

When learning more

When remembering and/or applying what's been learned

When things go wrong

When things change
These five 'moments' together are what we need to consider when creating a blended learning campaign. When we identify them for every learning outcome, we create opportunities for engagement. Remember, learning happens perpetually!
Perpetual learning takes into consideration that everything we do, in every waking moment, is, or can be, an opportunity to learn. Every time we read an article, click a link, or complete a task, we are learning something new or practicing/reinforcing a skill. Sometimes it is conscious, sometimes unconscious. But it is STILL LEARNING. All the time. Perpetually.
Let's quickly explore these moments and what we can do to serve and perpetually engage our learners.
When learning for the first time. We all know what it's like to learn something new. For example, a new customer service agent will need training before she gets started. She arrives at work on her first day for a full day of orientation training – designed to help her learn (for the first time) what she needs for her job.
When learning more. Suppose a supervisor is doing performance reviews for the first time. Sure, she had job training, but she now needs to learn a bit more in order to give her reports direct feedback for the first time. She might refer to online resources, reach out to a mentor, or attend a formal training event.
When remembering and/or applying what's been learned. Let's go back to our customer service agent, who needs to tap back into that orientation training on a regular basis. She's not going to use everything she learned every day. She's going to be remembering and applying what she learned months ago, as she learns and grows in her new job. What resources will be available for her to refer back to? If these moments were integrated into the design process, she will have access to materials she received initially, and additional resources to explore when she needs to apply what she learned previously.
When things go wrong. We know that not everything goes the way we want it to. Let's go back to our new supervisor who is providing feedback during an employee performance review session. What if the meeting doesn't go as planned? She used the same meeting format that she learned in training with other employees, but one meeting has just gone way off the tracks. At this point, our learner needs resource that can help her recover from this meeting, learn from the experience, and regain her professional confidence.
When things change. Going back to our customer service agent example, suppose a new system is put into place and every agent needs to update their skills. The change may be big enough to require a full in-person training program, or an eLearning module and appropriate job aids and informative resources will be enough to help them use the new system. If we anticipate that change, we can embed training in the moment of need.
Keep these five stages of learner need in mind as you work through needs analyses in your own work, and contemplate them as you progress along your individual learning pathways.
A little bit of empathy will go a long way in guiding the design, development, delivery, production, and facilitation of modern blended learning!
Related Resources
Video: Five Moments of Learning Need
This video tells the story of Tom, and walks through the five moments of learning need.
Infographic: Engaging Modern Learners: When to Push and When to Pull
Based on her popular BYTE session of the same name, Jennifer Hofmann's infographic defines the moments of learning need, and ties them into other models. Using her recommended approach creates greater learner engagement in blended learning programs.
Article: Are You Meeting All Five Moments of Learning Need?
Explore this article from Learning Solutions Magazine to learn more about Gottfredson and Mosher's moments of need.