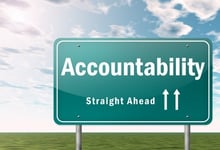 The virtual classroom has a lot of advantages. We can create a learning environment which promotes interactivity and collaboration among learners. We can deliver a lesson to remote learners with minimal delivery costs. We can easily engage subject matter experts in the learning process.
But even with these advantages, we still have concerns about how effective virtual learning is and how to determine if learners are meeting the objectives of the lesson.
"Is anyone out there? Hello? Hello?"
If you have taught online, you know this feeling. You ask for questions or feedback, and get nothing.
And you feel limited because you cannot look around to identify reinforcing eye contact or body language. Are participants paying attention? Are they even awake?
And is there anything we can do about it?
The key is to create a culture of learner accountability.
Plan for a Culture of Learner Accountability
In this environment, it is important that we, as virtual classroom facilitators, make people accountable for their own success. The onus is on the learner to be responsible for their learning in this environment. It's not enough to expect that people will be responsible; we must reinforce that expectation through our own behaviors.
According to the Society for Human Resource Management (SHRM), there are six steps to creating a culture of accountability in the workplace. They apply to the virtual classroom as well.
1 Set and communicate clear expectations.
To accomplish this in the virtual classroom:
Learners should commit to all formal course requirements. Not only will individuals miss valuable content if they skip lessons, the value of the virtual learning experience will be undermined if learners can pick and choose which to attend. (This applies to all lessons in the formal blended learning design, not just the virtual session. For the extended learning campaign, learners have more choice!) Share these requirements in a course map!
Establish and publish a set of ground rules regarding how learners should behave while participating. Include information that will help them understand what is expected of them. And don't forget to include some type of checklist they can use beforehand so they are ready and prepared for each class.
2. Align individual and team goals with departmental and organizational strategies and vision.
To accomplish this in the virtual classroom:
Instead of using case studies, create breakout activities that allow learners to apply to real world situations and solve real business problems.
Include an activity that allows learners to customize their own personal learning paths based on what they have learned and what they identify as personal development gaps.
3. Provide time, training, tools, and resources.
To accomplish this in the virtual classroom:
Create an orientation to the virtual learning experience. Virtual learning and the virtual classroom are new and mysterious (and often intimidating) to most individuals. A playful and fun "let's get to know what virtual learning is all about" orientation will go a long way toward creating an organization that embraces virtual learning as a regular course of business. (InSync's Learn How to Learn Online workshop is offered weekly and we've made it a prerequisite for any of our virtual training courses.)
Include microlearning tools as part of the design as a foundation for future and perpetual learning. For example, in our Virtual Classroom Facilitation Mastery Series and Master Virtual Producer certificate programs, we provide the 4-Step Virtual Classroom Disaster Recovery Process, so learners can quickly retrieve and recall this information in a critical moment of learner need.

4. Empower people to succeed.
To accomplish this in the virtual classroom:
Provide a manager orientation to virtual learning so managers can both participate in the experience and understand the importance of the time commitment required of learners.
5. Provide recognition and feedback.
To accomplish this in the virtual classroom:
Develop an incentive plan offering "tokens" that can be awarded to your learners based on their accomplishments in the virtual classroom. Set out your objectives and link them to a point system. At the end of the learning campaign, these tokens can be redeemed for a digital badge to recognize learning accomplishments.
Use visual reinforcements, including emoticons and slides, during the virtual learning lessons. Use emoticons liberally while participants are speaking, to indicate that you are listening and support what they are saying. Have "hidden" slides at the ready that say, "Good Job" or, "Great Work!"
6. Act when individuals and teams do not meet expectations.
To accomplish this in the virtual classroom:
Encourage learners to take charge of their experiences by doing things like fixing their own technical problems with their local support, instead of relying on the Facilitator/Producer to 'fix' them during the live lesson.
Encourage learners to seek their own answers instead of just providing content.
When a person asks for an answer, we need to direct them to where to find the answer. For instance: If someone says, "I'm going to miss the next session, how do I access the recording?" We say, "On Page 7 you'll find instructions for accessing all recordings." Or if they say, "I didn't get my Learning Journal," we say, "If you'll look in your in-box for a message from us dated March 2, I'm sure you'll find the attachment there." It is our job as facilitators to "teach the students to fish, not just to feed them the fish." Learners in the virtual environment must take the responsibility to be successful in this type of learning.
Finally, keep in mind that we as facilitators are responsible for the success of the entire group. When debating between helping an individual or moving the entire class along, it is generally best to do what is in the best interest of the entire group or we risk losing the rest of the group.
In creating a culture of accountability for our learners, we set up learners for the most successful virtual learning experience.
Related Resources
Article: Building a Culture of Accountability.This article by Randy Pennington discusses the role of leaders when creating a culture of accountability in the workforce.
White Paper: 101 Tips to Motivate the Virtual Learner. The first step to an engaged audience is a motivated audience. Download InSync's whitepaper to learn more.