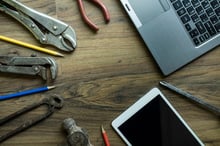 Last week, we looked at knowledge and content EdTech tools and apps. This week, we continue our series by diving deeper into communication and interaction tools and apps that will help you support your blended learning campaigns.
Again, these are the tools and apps you use to reach your learners – via email, announcements, and any other outreach broadcast media in this toolbox compartment, along with discussion forums, chat, collaboration, and virtual classroom meeting tools and apps.
At the core of each of these tools is functionality that enables us to talk to each other and share.
EdTech Tools and Apps for Communication
I consider these tools and apps to be my lifelines. I rely on email, phone, and text for my communication and outreach. I have several Gmail accounts, as well as an Outlook email account. And all of my email accounts are accessible from my iPhone, iPad and Apple watch. And I can text from any device that I'm on – in both the phone's native texting app, WhatsApp, and Google Hangouts.
Features to Look For: We take many email features for granted, but I've started using more of them to organize, prioritize, and refer back to messages. For any communication tool or app that you use, look for filtering tools that will help you auto sort incoming messages. Also look for voice-to-text options. I use voice-to-text to compose emails on a regular basis.
Considerations: Take the extra time needed to organize your email – it's worth it. And to avoid getting overwhelmed checking multiple accounts, try merging all of your accounts. I've done this before with Gmail and it worked flawlessly. And check out the texting features of your email app (like Google Hangouts).
You Might Want to Learn More About: Mail consolidation services come in handy if you have multiple accounts on different services. I have used it in the past while on the road and it came in very handy. There's a great book on working with Outlook, called Take Back Your Life, that made a huge difference in the way I work with ALL of my email accounts!
EdTech Tools and Apps for Broadcasting
Many of us have access to what I refer to as broadcasting tools within our Learning Management Systems (LMS) or through group messaging services. These are powerful tools for reaching groups, and can be used for announcements, quick reminders, and calls for assistance.
I use the announcements feature in Moodle and Totara all the time to reach out to my learner groups. I like the way it automatically sends an email as well (to those who subscribe). I also use Slack for broadcasting out to specific groups – some are working groups, and others are my Personal Learning Network (PLN).
Features to Look For: I consider broadcasting tools and apps to be more focused on one-way communication, so you're really looking for the best way to get a message out. Look for tools that enable you to broadcast your message via text, audio, and/or video, to better reach your audience.
Considerations: Think about when and why you would broadcast content. Although it often falls into the category of social media, I use LinkedIn on a regular basis to broadcast messages. I don't expect a conversation, or response of any kind, but I like the reach my broadcast messages get on LinkedIn
EdTech Tools and Apps for Interaction
I would be lost without Skype, and without my phone. My networks communicate via Skype messaging and text messages. I am using Slack more for interaction that I used to, but my Skype and my good, old, iPhone 6s carry the weight of my interactions.
For more formal learning interactions, I use LMS discussion forums, as well as the chat feature within live sessions. I LOVE the chat feature, and that's where I learn best. The running conversation keeps me on track (I know it distracts some), and I learn better when I engage with others in that space.
I value my virtual meeting platforms as trusted interaction tools. I make a point of testing out as many different platforms as I can here. Most recently I have been exploring Zoom meeting, and am happy with results, although the free version limits users to 45 minute meetings now.
Features to Look For: These tools work best when we can control the groups we are working with. You need to be able to add and remove users from groups, and still be able to send private messages. I love Skype because I can connect via text, or add audio or video when I want or need to. For virtual meeting platforms, be sure that you can let your participants participate fully – sharing audio, video, whiteboard, chat, polls, etc.
Considerations: Things can (and do) go wrong within these tools and apps, so you always need to have a backup plan for integrating interaction into your learning campaigns. Something as simple as a group chat broadcast can keep your learners engaged if they need to wait until a service is restored.
You Might Want to Learn More About: Don't be afraid of product vendors! If you come across an interaction tool or app that piques your interest, I highly recommend that you request a demo. I do this all the time for interaction tools so that I can see a full feature list, and let an expert show me the details.
Always Keep in Mind
The telephone was invented in 1876, and it is still the most widely used communication and interaction technology. It has changed a lot over the years, but it still is a primary tool for many of us. It certainly is for me. It's woven so seamlessly into my work (and life) that I didn't even consider it as I was writing this post, until now. And I just read that Alexander Graham Bell refused to install a phone in his study as he thought it would distract him from his work. Hah!
Along with the phone, one of the most important components of any communication or interaction tool or app is the contact or user directory. We have them for email, text, broadcast, and interaction tools. We create groups, add and remove people, and manage our learning communities and personal learning networks. Take a moment and imagine that you've lost your contact list. Yeah. Not pretty.
As you are exploring communication and interaction tools and apps, take some time to see how contacts and users are managed, and if you can import and export these lists.
Towards the Future
I remember watching the Jetsons while I was little, thinking, "we'll never be able to see each other on the phone." Now, we communicate, broadcast, and interact in real time, with so many of our senses involved.
In my crystal ball, I see us finding ways to see more, and maybe even touch in the future. I think holographic technology, augmented, and virtual reality will shape the way we get together, and learn together. And as more and more of our home technology is connected (the Internet of Everything), the way we interact with our "things" will change too!
Check in next week, as we take communication and interaction a step further as we continue our series with a deeper dive into social and community EdTech tools and apps!
RELATED RESOURCES:
Book: Take Back Your Life: Using Microsoft Outlook to Get and Stay Organized
Again, this book really did change the way I work with Outlook, and helped me better prioritize communication, and schedule my workday.
Article: 14 Of the Best Email Apps to Help You Achieve Inbox Zero
Although my post is not about managing your workload, you may want to explore a few tools and apps that can help you manage your email.
Article: The History of the Telephone
Just as an aside here, if you're interested in Alexander Graham Bell and the telephone, this is a great place to start exploring.