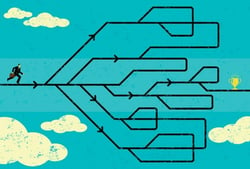 You may have noticed that I've been contributing quite a bit to this series, and you may have seen my name pop up more often in the InSync Community. In the next few months, you'll be seeing even more of me within this community, as I've taken on the role of Curator for the InSync Blended Learning Hub, which launches on March 6. Very exciting!
In case you haven't heard yet, the InSync Blended Learning Hub, launching March 6, 2017, provides modern learning professionals with a collaborative makerspace. Each month, learners embark on personal professional development journeys focused on a key training topic. All learning campaigns include curated resources, exclusive content, live online learning events, and a supportive community of peers.
As curator, my job will be to guide you through the learning campaigns that we will feature each month in the Blended Learning Hub, and to help you connect the dots as you progress along your personal learning pathway.
Meeting Your Own Learning Needs
As learning professionals, we often put our own personal learning and development last. Immersed in the perpetual learning we create for our clients, we often neglect our own learning needs – like the cobbler with worn out shoes. I know this from experience.
We are modern learners, and we are learning how we need to serve modern learners. So, how do we serve ourselves?
When we create personalized learning pathways within modern blended learning experiences, we start out by setting goals, and establishing milestones along the way. The pathways we create enable learners to choose where they want to stop along the way – what materials they want to access in their moments of need. We empower them to make decisions that support their learning needs.
But what about our needs?
Taking Inventory of Your Own Learning
There has been a lot of talk about mindfulness lately, including stopping to focus. So, I challenge you to do just that – stop and focus.
What is it you want and/or need to learn? Who, what, and where are your Personal Learning Networks (PLNs)? What learning pathway are you on, and if you're not on one, how do you get started?
You might need to take inventory and consider where you are now on your own perpetual learning journey. Do you tap into your PLNs on a regular basis? Reach out to mentors? Subscribe to professional society newsletters? Curate materials from your favorite sites? Google everything?
Taking inventory implies tracking, categorizing, and organizing, Take stock (pun intended) of the types of learning spaces you visit, people you connect with, organizations you belong to, and publications you subscribe to.
Paving Your Personal Learning Pathway
To progress on my own personal learning pathway in a mindful and meaningful way, I prefer curated resources and interactive spaces. I need to contribute and interact in order to learn, but I also need time and space to reflect on my own. I don't need (or want) everything to be linear. I can certainly prioritize and establish milestones, but I need to be able to jump ahead, and revisit old roads that I've gone down.
My inventory process focused on the resources I valued the most, and the people that I relied on for conversation and interaction – the people who helped me connect the dots.
As I started to visualize my learning pathway, I realized that it looked less like a road, and more like a bicycle tire. A tire with each spoke reaching out to a different piece of my network, with a focused hub at the center. Yes, I used "hub" on purpose.
The hub of my personal learning and development needs to be a place where perpetual learning happens – a curated portal to any and every learning campaign that might capture my interest. A place that I can rely on in MY moments of learning need, when I'm designing, developing, delivering, facilitating, or producing learning solutions for my clients.
Partners on This Learning Journey
I am extremely fortunate to be part of the team that is bringing the InSync Blended Learning Hub to life. A team that is dedicated to serving a vibrant community of learners in their moments of need – a community that spends most of their time and energy doing the same for others.
The InSync Blended Learning Hub, or the Hub as we like to call it, is designed to help us all on our personal learning pathways – as we take inventory, establish pathways, reach milestones, get lost, find secret passageways, take snapshots, send postcards, and enjoy the view all along the way.
For me, the most exciting part about the Hub is that we get to be partners on this perpetual learning journey. As curator of the Hub, I will be there, connecting the dots, as a guide, mentor, and colleague. We will have ample opportunities to interact as we find our ways, reach our milestones, and share our secret passageways. I may even offer to help you take a few snapshots and write a few postcards along the way!
I look forward to sharing this perpetual learning journey with you!
Related Resources
Article: My First 90 Days: Slow Down and Take the Time to Learn
In this LinkedIn Post, Josh Bersin (of Bersin, Deloitte Modern Learner research fame), does a great job talking about how to take stock of learning the ropes on a new job. Although it pertains to new hires, his advice and eight tips here are perfect for assessing where you are, and establishing your personal learning pathway.