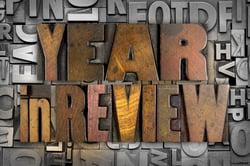 Another year has come and gone. This time of year encourages reflection, both personal and professional, causing the InSync Team to ask questions such as:
What did I learn this year?
How did training evolve?
Which developments resonated with modern learners?
Where did learning provide innovative value to our companies?
For us, 2018 marked a widespread shift towards truly blended learning. Organizations, learners, and practitioners alike began to embrace the possibility of building skills outside of formal events. Complex, purposeful, and at times frustrating, the evolution to the new blended reality required us all to consider a handful of key elements: modern learners, engaging facilitation, comprehensive instructional design, and planning for the unexpected.
Consideration for the Modern Learner
More than ever, we modern learners feel empowered to engage in learning on our own. Informal moments of need in our day-to-day lives encourage us to seek out and find answers. We turn to Google, YouTube, and members of our Personal Learning Networks (PLNs) to solve problems as we experience them. We've become self-starters, eager to overcome challenges and move on to the next thing demanding our attention.
Training made an effort to adapt, recognizing that without a change to traditional ways of doing things, the learning function would become outdated and irrelevant to those we strive to serve. A balanced L&D approach that incorporates design, people, place, technology, and time allows us to focus on the most important aspect of any blend: the learner and their experience.
A Focus on Facilitation
Not only have our learners changed the way they interact with learning resources and events, but our facilitators modernized their delivery to accommodate this new era. Facilitators no longer stand at the front of their classrooms and plow through content, bogging down the cognitive load of their audience. They now act as guides on individualized, personalized learning journeys, helping learners not only understand content, but understand which learning assets will help them achieve their defined goals.
Facilitators have made conscious efforts to improve their verbal delivery, recognizing that as content becomes more technical, clarity is key. As our formal events migrate from the traditional face-to-face classroom to the virtual environment, verbal style can make or break the blend. Facilitators appreciate that their delivery approach often provides a critical first impression of an entire program to learners.
Innovative Instructional Design
Facilitators were not the only practitioners purposefully growing their skills in 2018. Instructional designers stretched their wings to help training programs and learners soar to new heights. Designers embraced the idea that,
"…modern blended learning is more than sequencing different media and activities that happen to be related by topic. It is about aligning learning objects with the most appropriate instructional strategies, techniques, and technologies, while meeting the needs of the organization and modern learners." (from: https://www.td.org/books/blended-learning)
Using needs assessments, they defined learning objectives, and carefully connected them with the most appropriate treatments available. With intention, instructional designers blended together edtech, strategy, proven design models, and innovative ideas, to grab learner attention and provide them with training that fit their busy lives.
Extraordinary Preparedness
Unfortunately, 2018 included devastating natural disasters. Wildfires, hurricanes, and unexpectedly early snowfall interrupted lives across the United States. Communities came together to support one another in times of crisis. We saw the best in people during the worst nature could deliver.
Facilitators, managers, and learners discovered that preparedness also counts in the classroom. As emergencies impacted families, safety, and operational efficiency, teamwork emerged in the wake of natural disasters. Contingency and communication plans came together to ensure that concern for training programs did not add to the long list of stressors during emergency situations.
2018 proved to be a year of enlightenment, evolution, and elevated training programs. To those who supported modern learning's mission, thank you. Your commitment to creating content and sessions that support the way we learn today improved performance this year.
May you have a very happy New Year!