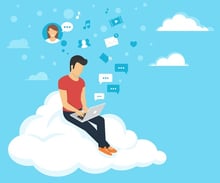 I learn best when I learn with others. When I have someone there (physically or virtually) with me sharing the experience, I know it makes a difference. I want (I would go as far as saying "need") to have conversations threaded into my learning to make it stick.
Yes, I am a very social person, and I thrive on conversation and collaboration. I also understand that not everyone is like me, and social learning is not meant for every learner in every situation. So, when does social collaboration make sense?
Let's go back to those 5 moments of learner need, and explore where social collaborative learning would benefit our learners during each individual moment.
When Learning Something New
We know that sharing our experiences with others can enhance knowledge retention, and when faced with a new challenge, it helps to have an ally nearby. Icebreaker activities are often included as part of new learning campaigns, but we can extend the social collaborative element by creating communities via social media in support of these situations.
For example, when I work with a new cohort of instructors from around the world who are first learning to use virtual training tools, I set up a closed Facebook group so that they can get to know each other online in advance of the session.
Initially, this group was intended to create a virtual hallway for them to connect in, and set a welcoming tone for the group. The Facebook group ended up being used throughout the training, and learners connected and collaborated to complete assignments and continue the learning after the formal session ended.
When Learning More
This is when our personal learning networks come in handy. I turn to my social networks (Twitter, Facebook, and LinkedIn) to reach out to my mentors when I find myself in these moments. Social, collaborative learning is all about learning more – about bouncing ideas around, and inspiring and motivating each other.
When developing learning campaigns involving people skills, it's helpful to add a social collaborative element to model those skills. Consider using a social collaborative tool like Yammer to create an internal group where new managers can reach out to seasoned managers for advice when they're faced with learning more about conducting performance reviews. Or a LinkedIn group that connects those new managers with mentors from outside communities.
When Remembering and/or Applying What's Been Learned
Have you ever asked a friend or colleague to remind you of what you said a few weeks ago? What was that learning campaign that you were so excited about? I would posit that this is where social collaboration makes the most sense.
I favorite (clicking on that little heart) social media materials ALL the time. Social collaborative learning is not just about engagement (learner-to-content or learner-to-learner), it's about cheerleading as well. It's about finding motivation from your social networks, and motivating others when they are in the process of remembering what they've learned. A pat on the back, a clue in the right direction, or a cheer in the background is what it's all about.
When Things Go Wrong
Social collaboration in these moments of learning need is tricky. For me, when things go wrong, I don't necessarily want a group to interact with in order to learn. I don't necessarily want to be social at all. But even in a moment of need that requires a bit more personal reflection, I can see the value of social collaboration.
I am currently in the process of debriefing my team from a project that we worked on, and things DID go wrong. We have been using Padlet, an online social collaboration tool to share insight, narratives, and links to guide our progress going forward.
When things go wrong, it's also useful to reach out to your social communities and shout "help me!" Your network will come through when you need it the most.
When Things Change
It is so much easier to navigate new situations and find new approaches to managing change when we collaborate and support each other.
We can use social collaborative tools to manage communication around the change, share knowledge and information as we learn it, and collaborate on change management strategies.
Where You Can Make Sense of Social Collaboration
Consider integrating social collaboration into your learning campaigns when you need to:
Introduce your learners to each other
Create "hallways" and "water coolers" within learning campaigns
Keep conversations going after formal training happens
Empower your learners to motivate each other
Inspire your learners to get back on track
Find new approaches to managing change
And stop by again tomorrow to read more about the technology tools and apps that support interaction in our modern blended learning campaigns!
Related Resources:
Book: 11 Rules for Creating Value in the Social Era
One of my favorite books on the topic, Nilofer Merchant guides us on how to manage collaborative communities and involve our employees and customers in creating value. More of a business focus than training and development, this book provides insight that will inform the design, development, and delivery of social and collaborative learning.
Blog Post: 6 Benefits of Social Learning
Although this post has a bit of marketing spin (for Docebo), there's value in reviewing the six benefits listed here, and the accompanying research from the Brandon Hall Group.