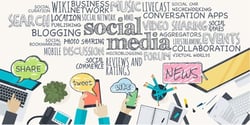 Last week, we looked at communication and interaction EdTech tools and apps. This week, we continue our series by diving deeper into social and community tools and apps.
Again, some of the tools and apps you find here stretch across multiple categories. We use social media to share content, communicate, and interact. Sometimes creating a community of practice or personalized learning network is not a project goal or objective, but we know that putting one in place will certainly promote knowledge and skill acquisition in our learner's moments of need. These social and community tools and apps can help us do just that.
I'm going to approach this post a bit differently than the other posts in this series, as this category is broad, deep, and touches so many other compartments that I've established in our toolboxes. Instead of sharing my preferences of specific tools (LinkedIn, Facebook, Twitter, Instagram, Pinterest, Slack, Yammer, etc.), I'm going to concentrate on overall features to look for, considerations, what you might want to learn more about, and my vision for the future of social and community tools and apps.
Features to Look For
Here are some key features that I look for in my social community tools and apps:
Profiles: Having a presence in a virtual space requires a profile of some kind. We need to know who our fellow community members are before we can learn from each other.


Connections: Learners need to be able to connect with each other, whether it's by following, friending, or selecting "favorites", and they need to be able to find each other in the crowds!


Groups: Learners (and facilitators) need to be able to create groups and establish rules for contributing within those groups.


Messages: Private messaging and group messaging features are the crux of community building.


Sharing: Learners need to be able to share within and outside of their groups – and they need to be able to share content, not just messages. Remember, finding and sharing content is part of the curation process!


Updates: Whether it's a news feed, or a space that highlights the most recent activity in the community, we need to keep our learners in the loop as to what's happening in our communities.


Search: Everyone loves a good search bar. There's just too much information in our social and community sites to explore on our own, and the results of a search can lead our learners to materials that they didn't even know they were looking for in the first place.
Considerations
Our teams, workforces, learners and leaders are diverse and global, and we rely on technology to come together and break down any barriers that might inhibit our potential.
Once we get together, what comes next? Each of us (as individuals and organizations) interact socially within open and closed communities. These can be our Personal Learning Networks, learning communities, or even our social groups.
The tools and apps in this category need to be reliable and stable, but more importantly they need to have boundaries. It may sound odd, but yes – we break down barriers, and establish boundaries. Even our open communities have boundaries, and those boundaries shape (and nourish) our learners' approaches to collaborations and interactions.
What You Might Want to Learn More About
Calls to action. You know those little buttons that say "sign up now" or "read more"? In many social and community spaces, our learners establish routines and forget that there's more to explore. Calls to action within social and community sites are ways to translate learner browsing into engagement and action.
Spend some time exploring calls to action within your own social and community sites. Are they asking you to download, contribute, discuss, subscribe, get updates, explore, share, become a mentor, or donate to a cause?
These are features that can provide insight into the heart of a social or community space for you and your learners. The tools that I rely on to create and collaborate in this compartment need to be able to make these types of calls to action.
Always Keep in Mind
The words "social" and "learning community" may imply collaboration to you, but some learners prefer to explore on their own in these environments. The tools and apps in this category enable a wide range of participation within social and community networks, from the "never-theres" to the "social butterflies". We need to leverage all available features so that we can connect and collaborate the way WE want to.
Toward the Future
As I gaze into my EdTech crystal ball, I see more seamless audio and video integrated into our social and collaborative tools and apps, along with augmented and virtual reality (I'll be talking more about that in upcoming weeks). And, I see more cross functionality between applications, and easier ways to set up customized social and community dashboards for all of our learners.
Check in next week, as we take measure of our toolbox by continuing this series with a deeper dive into assessment and evaluation of EdTech tools and apps!
Related Resources:
Article: The One Feature That Changed Social Networking Forever
In this short article, the author explains the role of adding the "newsfeed" encouraged Facebook's success, and offers tremendous insight into how and why we value our social and community networks.
Infographic: 12 Types of Social Network Users
This infographic does a great job of introducing twelve types of social media community members.
Infographic: What is Driving the Modern Learning Culture?
Understanding our learners helps us better support them with EdTech tools and apps. This infographic concisely defines four factors impacting modern learning, and ten ways to adapt to the new learning landscape.