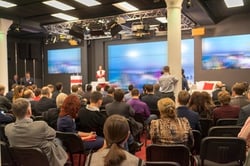 Remember the adage "the cobbler's children have no shoes?" It's a reference to the fact that we tend to be so focused on using our expertise and special talents to help others, that we neglect our own needs.
That is so true for us in the L&D profession. We dedicate our careers to enabling others to be successful while often not managing our own personal learning paths. And when we do focus on our own talent development, we overlook the value of true face time.
Let's face it, all this virtual, online learning is great. But getting together to learn can be energizing, and fun! An in-person training conference can be a great learning opportunity that keeps you connected to trends, new training approaches, and can expand your personal learning network.
First, select your conference
Chances are you will only be able to attend one conference every year or two, so it's important that you pick the one that's best for you.
Begin by reviewing your personal learning path. You identified experts, learning communities, and other resources that support your goals and objectives.
Compare your goals to the events available. Check out Top 10 eLearning Events of 2017 to start your search.
Reach out to your personal learning network to get recommendations. Remember to ask for the reasons WHY a conference was worthwhile. Get specifics.
Prepare for the conference
Don't wait until you arrive to figure out how you want to use your time!
Create a list of questions you need answered before you leave.
Research the speakers and create an itinerary. If you are lucky enough to be traveling with a team, split up the program so you see it all.
Research the expo vendors and decide which you want to visit. Again, plan your questions!
Sign up for conference Twitter lists, LinkedIn groups, and other social networks.
Download the conference app and use it to manage your agenda.
Pack supplies like business cards, notebooks, chargers, and quick snacks.
Bring comfortable walking shoes and a sweater or light jacket. Conference centers are big! And the temperatures can be very inconsistent.
Be fully present
Let's face it: much of the content provided at a conference can be found online. You are attending so you have dedicated time for professional development and to actually interact in real-space. Here are some tips:
Remember to eat, sleep, and exercise. A healthy body will help you learn.
Be present and participate. Ask questions. Why go to a live conference and not say anything? You could have watched a recorded webinar and had the same experience.
Tweet, blog, take collaborative notes: all of these things help you to remember what you have heard, and give back to your personal learning network at the same time.
Meet with people! Eat with new colleagues, follow up with people who shared insightful stories. Do what you can.
Reflect on your experience.
A conference is a frenetic experience, and if you don't take time to reflect and use what you have learned, you can easily lose much of what you have learned. Here are some tips for making the learning stick:
Create a presentation of what you have learned so you can share with your teams.
Create an action plan of how you will use this information, and incorporate those actions into the personal learning blend.
Do a personal cost/benefit analysis. Time is your most precious resource, so determine if this conference was worth your time. If it wasn't, why not? Was it the wrong conference? Did you not use your time well?
Continue to learn
In-person conferences are part of your personal blended learning journey. But they are a start, not an end. You need to take what you have learned and continue to build on it.
And the more you know, the better partner you can be with your learners.
Related resources
Twitter: Conference Backchannels
The challenge of all conferences is the concurrent session conundrum: you can't be in all sessions at all times. The Twitter backchannel of any conference is a great option for reviewing quick lessons learned from other attendees and sessions (and conferences!) you couldn't attend live. It's also a thoroughly modern social learning option.