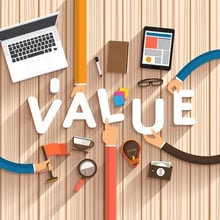 Two years ago, I made the argument that blended learning represents a true shift in the profession. Since then, blended learning has cemented itself as so much more than a passing fad. But now that blended learning is here to stay, how do we prove its value to our organizations?
Because of its ability to create true skill building for its learners, I embrace and support blends, and suggest you effectively communicate three blended learning truths to your stakeholders to gain buy-in.
Blended Learning Supports a Modern Workplace
Ultimately, learning functions support the needs of their companies, which are rapidly and constantly changing. For example, organizations include four generations of workers for the first time in history. While I don't subscribe to the philosophy that we design specific learning initiatives for each generation, I do believe that each generation has a specific set of needs we must support. How do we capture and utilize the knowledge of older generations who have acquired helpful skills after years on the job? How do we provide the collaborative learning younger generations crave? The answer to both is blended.
Additionally, organizations consist of globally dispersed virtual teams. They all have different experiences with technologies, while trying to connect across different time zones and cultures. It's no longer reasonable to bring people from across the globe for a two-day, on-site training program. It's cost-prohibitive, not only from a travel perspective, but also from the productivity learners lose when they're in the classroom. Blended programs, while expensive to design, are much less expensive than traditional training programs.
Today's workers expect both collaboration and instantaneous answers. They rely on their coworkers for guidance when on the job. And if that trusted resource doesn't have the answers when they need them, workers turn to Google. Truthfully, work no longer occurs in a vacuum, so our training programs can't either. Blended learning addresses this reality.
Blended learning, when designed correctly, provides both formal and informal learning. It captures the tacit knowledge of long-term employees and makes it available to new, younger team members. It creates the opportunity for collaboration, which allows learners to learn from one another, while also meeting defined learning objectives. Virtual classroom modules easily replace traditional in-person training, creating equal experiences for dispersed teams. Most importantly, perhaps, informal blended learning elements provide on-demand resources. With the right marketing and positioning, these organizationally approved resources replace Google in the moment of learner need.
Blended Learning Provides the Latitude to Use Authentic Treatments
From experience, we know that no one instructional design treatment works for every learning objective. For example, we should teach face-to-face sales skills in a different training environment than over-the-phone sales skills. Traditional training programs, rigid and inflexible by nature, don't align where skills will be used and where they will be taught.
Authenticity lives at the core of blended learning instructional design. Designers review each learning objective, select the most appropriate instructional treatment for it, and then combine all of the individual modules into one cohesive program. For example, when designing inventory training for a warehouse manager, blended learning allows instructional designers to create mobile learning taught on the same iPads the managers will actually use in the field. In this case, managers learn both how to do their jobs, but also how to use the technology they'll use to complete it.
Learners benefit because each module teaches them specific skills in the same way that they'll be used back on the job. Authentic learning boosts learner retention, and learner investment in the training program, something traditional classroom training struggles to achieve. Better equipped learners become more effective employees, something organizations will have no struggle buying into.
Blended Learning Creates Perpetual Learning
Learning doesn't end with the training program. Oftentimes, the information disseminated during a training program won't be relevant or necessary until months later. One treatment designs don't embed key information into the day-to-day work of our learners. This necessitates the use of Google, and other unvetted resources.
Blended learning solves this problem by creating a perpetual learning experience. In a well-designed blended learning program, all formal learning resources become on-the-job aids that learners can use back on the job. Formal live learning events not only share critical information, but they also teach learners how to leverage job aids, and where to find them when they need them.
Blended learning programs address all of our learners' moments of need, and by extension, create organizations that function more efficiently.
Remember, as learning professionals, we do more than design, facilitate, and manage learning programs. We also have the responsibility of explaining to stakeholders the reason for our design decisions, and gaining buy-in and support for our programs and our learners. The three benefits of blended learning described above will help you start to prove the value of a blended approach to your organization.
Related Resources
Whitepaper: Blended Learning Instructional Design: A Modern Approach
Need in-depth information about how to design blended learning programs? This whitepaper provides a thorough overview of a modern learning instructional design strategy.