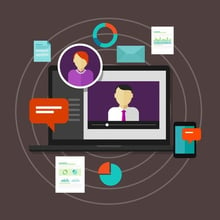 Attending a conference in-person is not always an option. Budget constraints, scheduling, and getting approvals can often prevent you and your staff from participating as attendees, or even presenters.

More and more, we see virtual conference options being offered – either an entire virtual conference, or the virtual attendance option for an on-site conference. These live virtual learning experiences have extensive benefits (and limited drawbacks) if they're well produced and facilitated.

The Producer Perspective

I have been producing and facilitating virtual conferences for several organizations for the past five years. These are virtual tracks at the conferences, meaning that we broadcast only specific sessions that are taking place on-site. This gives attendees a multi-day experience with sessions chosen from the overall schedule to be streamed live.

Being virtual does not mean simply streaming presentations, however. Interactions with the virtual audience need to be carefully orchestrated, and it's the responsibility of the virtual conference production team to bring the flavor of the entire conference to the virtual attendees.

Here are a few ways to engage virtual attendees:
Work with speakers in advance to add online polls and interactive elements to their presentations. Coach them to welcome the virtual audience along with the live audience, and take questions from the virtual audience first.


Plan virtual networking activities for when networking is taking place on-site, like giving learners control of the whiteboard and having them share their favorite learning quote.


There should be no gaps in streaming, and something should be going on every minute in the virtual space – just like on-site. Use the time between sessions to do live interviews of key influencers at the conference, have the last presenter hover in the virtual room to answer additional questions, or engage the audience in conversation on the last presentation, as well as the upcoming one.


Become a "roving reporter" and Invite on-site attendees to share their experiences with your virtual audience.


Take your virtual attendees on a tour of the exhibit hall. For some learners, vendors and exhibitors are key members of their Personal Learning Networks. Take the show on the road, so to speak, and bring your virtual meeting platform to the exhibit hall on your phone or tablet. Let the vendors and exhibitors interact with the virtual audience, and give your attendees a taste of the full conference experience.


One of the conferences I produce insists on gourmet fare, and the food is really over-the-top. As simple as it may sound, putting the camera on the food and doing a quick review can engage your attendees in conversation around the conference, and make them feel more a part of the on-site experience.


Producing a virtual conference means immersing yourself and contextualizing the content for your virtual audience. Take time each day (and at the end of the conference) to summarize your thoughts on the learning that has taken place, and ask your virtual attendees to do the same.
Making the Most out of Attending Virtual Conferences
I have attended dozens of virtual conferences, and every experience is different. The most important thing that I learned from all of these learning events is how to ask for what I want out of the experience. If there are no handouts, I ask for them. If there's no interaction in the chat, I start it and engage other participants. If there's no follow-up, I ask for speaker contact information from the producers. If there's no Twitter hashtag, I create one.
Know when to stand up and leave. We know our time is precious, and if the virtual conference session that you're in does not interest you, you do not need to linger in the room. Just like at on-site conferences, it's okay to get up and move to another room if the session you're sitting in does not fit with your personal learning pathway.
As you would at an on-site event, be mindful of the presenter and other attendees if you come into a virtual conference session a bit late. Know that learning is already going on, and do your best to catch up.
And, take that event survey. It's even more important within the virtual space to provide feedback on your experience. Try to separate out the technology from the content in your assessment of the experience, but let the conference producers know exactly what did and did not work well for you.
Virtual Win-Win
The virtual conference experience works best when our learners are engaged. Just like any learning event, everyone wins when we set measurable objectives, select content, provide context, encourage interaction, and compare results and outcomes to our original learning goals.