L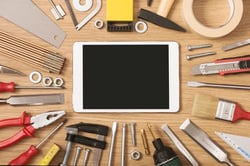 ast week, we looked at social and community EdTech tools and apps. This week, we continue our series on our EdTech toolboxes by diving deeper into assessment and evaluation tools and apps.
The tools that focus on quantifying or qualifying the impact of learning fall into this toolbox compartment. We use this array of tech tools and apps for tests, surveys, and assignments, as well as for determining the value of our learning initiatives. Adaptive learning is a hot topic these days, and the data and reporting tools that drive adaptive content are found in this area as well.
For some of us, these tools inform the effectiveness of our learning solutions, for others these tools indicate our business impact. Simply put, we are using them to measure, validate, forecast, and inform.
Tests, Surveys, and Assignments
I use a wide variety of tools here, depending on the Learning Management System (LMS) or development platform I'm working in.
For surveys, my top two are Zoho and Survey Monkey. I create surveys on a regular basis to get learner feedback, and to forecast future trends. These are both easy to set up and deploy, and I know I can get the results in a format that I can work in.
For tests and quizzes, I rely mostly on the features within the LMS that I work with – Moodle, Totara, Blackboard, and Bridge. Most of these let you create a question bank and then select a random set of questions to include on a test or quiz, and even let you randomize the answers.
If I'm embedding a quiz on a WordPress site, I use WPQuiz, or Quiz and Survey Master. These both let you create quizzes or surveys, and embed them right onto your site.
I've also been known to use a simple Google form to create a survey or quiz. It's quick and easy, and the data is simple to find and explore.
For assignments, I mostly use what is built into the LMS that I'm working with, and that means a drop-box utility. The LMSs that enable you to annotate assignments within the grading tools (it's a PDF plugin of sorts) are the handiest, because there's no need to download, annotate, and upload all over again.
Features to Look For
Question types are key. Be sure that there's a variety of types to choose from. Also, you'll want to be able to download the results in a format you can work with. PDF is not good enough! Working with the actual data is an important part in validating your results. Be sure you can download your data in .xls or .txt format.
Other Considerations
Check back in with your learning goals and/or business goals as you're developing any assessment. If you're looking for easy to measure results, don't spend the money or time on a behemoth technology. If you only need to measure or validate learning that has taken place, there's no need for forecasting features.
Something New to Check Out
Poll Everywhere is one of my favorite tools to use these days. I can poll my audience live and the results show up right in my presentation – as I'm presenting. Your audience needs to participate on their mobile devices, Twitter, or through a web browser. I guarantee you will boost your learner engagement with this one!
What You Might Want to Learn More About
Data and reporting tools also fall into this category, and it's worth taking the time to learn more about analysis and forecasting features that are available in all of the survey, test, and quiz tools that you use.
Explore the reporting features in any of these tools that you use and you may find ways to integrate adaptive learning elements into your learning campaigns. These can be as simple as branching options, or as complicated as algorithms that determine which content to display to your learners at any specific time or place.
Always Keep in Mind
Accessing the raw data behind any assessment or evaluation is important. You may need to show that data to support the impact of a blended learning initiative on the business, or display the need for more training and development. Find where that data is, and learn how to use that data to illustrate the impact of your design, development, delivery, production, and facilitation work.
Towards the Future
As I gaze into my EdTech crystal ball, I see adaptive learning features seamlessly integrated into all of the materials we create, enabling our learners to easily establish personalized learning pathways. I also see the tools for analyzing data and reporting becoming more user friendly and less cumbersome. And my dream for the future is to have less calculus and more statistical analysis in our schools so that we will be better prepared to explore the massive amount of data that we'll have at our fingertips!
Check in next week, as we take measure of our toolbox by continuing this series with a deeper dive into Augmented and Virtual Reality EdTech Tools and Apps!
Related Resources
Article: 5 Intuitions about Adaptive Learning
This article peeks into the future of adaptive learning, and the technology features that will drive changes in the way we learn now, and the way we can better serve our learners in the future.
Article: Choosing Survey Software: Top 10 Things to Consider
This short article from Scantron (yes, bubble sheets!) provides a great overview of the most important elements to consider when selecting survey software. These tips can also guide the way you develop your surveys and quizzes.
Article: Flipped Kirkpatrick: Designing Learning Journeys for Business Impact
This article, although not directly related to technology, will inspire you to think about your survey data in a new way, by identifying more tangible metrics in alignment with business goals.