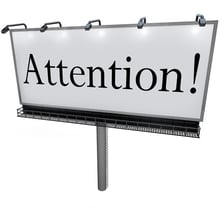 BYTE Session Recap
How do you capture your audience's attention when so many factors provide distractions?
Recently, guest BYTE speaker Mark Harter answered this question and provided pro-tips accumulated from years of practical experience.
Read on for three guiding principles you can use when working on new instructional designs and promoting training events.
Watch the entire webinar replay of, Grabbing Learner Attention, for a step-by-step process for creating a professional video studio on a budget, and tricks for making learning fun.
Modern Learners: A Refresher
Before you attempt to command learner attention, you have to understand to whom you're appealing. Mark kicked off his session with key information from Bersin by Deloitte research. On average, modern learners:
Unlock their phone nine times an hour.
Won't watch a video longer than four minutes.
Get interrupted on the job as often as every five minutes.
Only have 1% of their work week available for training and development.
Use search engines for on-the-job learning 40% more than corporate eLearning resources.
What does this mean for us in Learning and Development? Mark says:
"We are all modern learners. We are a product of where we are as a society. We have the device in our hand, and a surplus of video. We don't have time for anything apparently."
When faced with limited time and a myriad of distractions, we need a purposeful approach for designing and marketing engaging learning experiences.
Three Guiding Principles
Get learners to see, respond to, and engage with our learning resources and events using Mark's recommended guiding principles:
Motivational. Motivational learning causes us to act. As training practitioners, we have to find the right thing that captures attention and motivates participants to learn. For example, learners are often motivated to complete compliance training because it's mandatory for their continued employment. How do we find that same motivational concept and apply it to other things? Think outside of the box, and remember that one single thing will not motivate all learners. Games, competition, and compliance are examples of potential motivating factors in learning.


Memorable. Memorable learning is about passing messages to learners and creating long lasting connections. Videos and graphic designs are super popular today because our brains process visuals 60,000 times faster than text. Incorporating images and stories in your programs ensure your message is not forgotten.


Meaningful. Motivational and memorable learning is great, but if learners don't believe it's important to them, learners won't achieve defined outcomes. We can grab learners' attention if they care about the content. This doesn't necessarily mean that we have to spend more money (in fact, meaningful learning designs often cost less!) but it requires more care and time. Promote the content to your audience and clearly define how it relates to their responsibilities.
Additional Resources