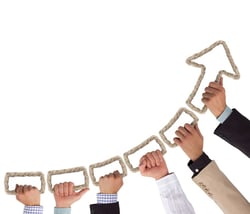 Virtually There Session Recap
Many teams now include dispersed members. Whether your team includes employees in different buildings within the same region, or you lead a virtual team where everyone works from home, if you contribute to a global organization with groups on different continents, learning experiences can often prove to be tricky with limited face-to-face interaction.
Experienced designers and facilitators recognize the power of social learning to overcome the challenges commonplace for today's workforce. Daila Boufford, Manager of Learning Design for Ansrsource, knows first-hand how thoughtful design which includes social learning can combat learner disengagement and improve overall team cohesion.
What steps can you take to ensure social learning success? Daila recommends three approaches.
Recommendation 1: Observe existing behavior
How does your audience learn now? This simple question often gets overlooked in the pursuit of a new instructional design. As employees, we pursue new knowledge on our own regularly. Where do we look for that information? Often it's a combination of YouTube, Google, and/or our social networks. Our target learners likely learn in similar places. Take the time to figure out where people engage in conversations and where they look for tools and guidance.
Thoughtful consideration of your learners' current methodology helps you integrate social learning into the training you provide them. It works because, as Daila explains:
"There's no need to recreate an experience when all you need to do is provide scaffolding so you can help learners achieve desired outcomes with what they're already doing. It's the modern learning version of, 'don't recreate the wheel!'"
Recommendation 2: Assess the learners' willingness to engage
Instructional designers strive to create a safe space where learners feel comfortable participating and enabled to contribute. Daila believes that the personality of your audience influences your ability to successfully create a supportive social learning environment. Designing a social solution for a team that feels comfortable interacting because they have existing relationships involves a different process than doing so for a virtual team with little rapport.
Building accountability and trust into your social learning activities encourages engagement. Start by designing exercises that create connections among your learners before asking them to participate in more impactful learning experiences. If learners resist engagement or you anticipate that they will hesitate to contribute, identify ways to incorporate accountability measures into the exercises. For example, try including learners' managers in the process.
Recommendation 3: Determine if learning is a priority for your audience
We know learners have busy schedules. Between work responsibilities and home life, social learning often falls by the wayside or to the bottom of the "to do" list. If learners have not prioritized this component of your blend, no matter how solid the instructional design, they simply won't engage.
Daila reminds designers that:
"Social learning requires more time to go through, from reading a prompt, engaging in an interaction, reflecting on the experience, and applying what was learned. In today's age of microlearning… it's east to just assume that having folks respond to a prompt on a discussion board will take the same amount of time."
Respect your learners' time and honestly determine the time required to meaningfully participate in informal social exercises. Communicate both the value and time commitment of these activities to the learner. Transparency helps learners prioritize the social experience.
Not focused on social learning right now? No problem! These recommendations apply broadly to creating more successful modern learning programs.
Did you miss Daila's excellent Virtually There session "Facilitating a Robust Social Learning Experience for Geographically Dispersed Teams?" Watch the entire replay here: https://blog.insynctraining.com/modern-learning-resource-library/recording-virtually-there-facilitating-a-robust-social-learning-experience-for-geographically-dispersed-teams