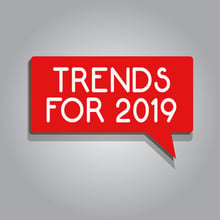 A new year presents new opportunities for modern learning advancements. Undoubtedly, exciting technologies will emerge, and practitioners will identify creative and innovative ways to engage learners while working to reach organizational goals.
What does the next year hold? We don't have a learning & development crystal ball, but based on some trusted sources, a few predictions give us hope for a productive and successful year.
And it may surprise you to learn that none of them relate directly to technology!
Excitement about Training
Learning does not always have the advantage of being considered "cool." Mandatory and poorly designed programs have left learners with an unpleasant perception of L&D. However, through thoughtful design, purposefully-incorporated EdTech, and better manager buy-in, the tides have turned in our favor.
Chief Learning Officer magazine did some research and discovered that excitement goes beyond the trainer level. Their Business Intelligence Board, a group made up of 1,500 L&D professionals, participated in a survey revealing a promising level of optimism for 2019. Those professionals involved with driving organizational learning strategy share a positive outlook that likely feels familiar to in-the-trenches practitioners:
"With intervention, bad outcomes can be turned to good. A struggling worker can be transformed into a high performer."
The survey also reveals that 2019 will include experimentation with new techniques, better quality of learning offered, and a learning function more integrated with other business functions. Their optimistic vision provides us with a starting point for our programs driving change.
Better Blends
Over the last few years, interest and investment in blended learning has risen. Matching individual learning objectives with the proper treatment allows for greater design and delivery flexibility, and honors adult learning principles. Like all training evolutions, blended learning had to find its footing. Simply putting together standalone elements and calling it a "blend" does not create an effective learning experience.
2019 promises to push the blended learning movement forward. Blended learning campaigns provide an overarching model to curate comprehensive experiences. Outlined in her ATD book, What Works in Talent Development: Blended Learning, Jennifer Hofmann created a design methodology that connects the dots of larger programs.
We anticipate that in 2019, learning objectives will transform into guiding questions, and blends will feature more social collaboration and assessment techniques appropriate for defined goals. Plus, learners can personalize the experience based on their own needs. Sounds like a winning combination!
Improved ROI on Virtual Learning
For over 20 years, we at InSync have embraced, promoted, and improved the value of virtual classroom learning. It has taken more than two decades for many organizations to realize that live online events can create equivalent, or even better, training opportunities than the traditional face-to-face classroom.
Defining the ROI of online learning events presented an ongoing challenge for many. How could you calculate the effectiveness of a training event if you couldn't "see" the learners? More importantly, how could an organization justify the added expense of instructional design when the virtual classroom technology itself cost a pretty penny?
Well, through practice and technology upgrades, our ability to calculate the value of virtual learning has improved, and it all comes down to learner engagement. Moving forward, virtual classroom goals will include engagement, retention and productivity and instructor-led, live, interactive and reactive, immersive virtual classroom are the way to go, with full two-way video and audio channels. Ultimately, the 2019 version of virtual classroom ROI focuses on the most important element of any training program: the learner and their engagement.
What developments do you anticipate making the biggest change in your programs and practice in 2019? Share them in the comments below.
To a successful new year!