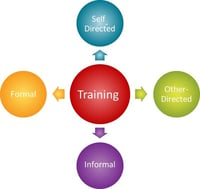 Practitioners and experts alike believe that modern learning is blended learning. Gone are the days where events, job aids, or resources stand alone. Ideally, we strive to create learning ecosystems that support our learners whenever they have a moment of need, whether it's in the classroom or back on the job.
Fundamentally, informal learning constitutes a critical part of every blend. And while many learning professionals understand its value, we're struggling to gain support from our learners and stakeholders. Try one (or all!) of these three options to more purposefully include informal elements in your modern blended learning.
Aim for Authenticity
Before worrying about the tech we're going to use, or how we're going to deliver content, we need to think about where, when, and why learners want to learn this content. The modern workplace learning environment is about creating experiences that are very relevant and very accessible. We want to make sure we're delivering content to learners in the right place. It could be a classroom, a desktop computer, a mobile device, or it could be on the job. Identify the most authentic learning treatment by asking, "When and where will learners use this information?" and addressing that moment. If learners will use a program on their company-provided tablet to complete the task at hand, design learning that teaches the skill in that tablet program. Using authentic treatments allows us to better and more organically support informal on the job learning.
Effectively Embed Resources
We need to recognize how much informal learning happens, make that part of our mandate, and plan for it. We can create tools like infographics for our formal events and then make them easily accessible, so that when we need to access that content three to five months down the road, we can find it and access it.
Performance support after an event is a way to create a culture of perpetual learning. Performance support is part of the whole process. Most of what we teach can be supported by some kind of performance support tool that's embedded.
Simple microlearning activities like videos, podcasts, job aids, and up-to-date websites with refreshed content allow learners to get what they need and move on. Think about what you can embed and connect that to more formal learning if they need to know more. Sometimes people just need the content at an informational level, they don't have to master it. Embedded learning will give them the overview, and formal learning will give them the opportunity to apply and practice. Embed means to make it available so it's not difficult to find. The learning is reinforced how and when the learners need it.
Create Community
Social collaboration is one of the most effective informal learning approaches for adult learners. We ultimately want to create community within formal events, throughout the entire blend, and outside of the formal learning environment.
It starts with a community of learners who are learning at the same time - maybe they start in a live online class or face-to-face program, and they connect over time while they're in the learning process. Learners become much more connected than they do in a face-to-face program. Community reinforces the learning with a stronger connection. With the community, we're trying to encourage learning from one another, not just the training provider. The community also gives us a place where tribal knowledge is kept. New learners can be inserted into an existing community of learners, and as people become more knowledgeable within the community, they can become mentors to the new people.
A community of practice can be part of a formal learning process where learners aren't just learning from facilitators, or from each other, but from past and present participants. If you build a learning community during traditional training lessons, think about how you can make it part of a larger learning culture. Ask, "How can you help people connect to their personal learning networks?" to expand it into informal elements of the blend.
Taking these steps towards effectively implementing informal learning helps evolve our traditional training programs into modern blends, and make learning and development an essential part of the business.