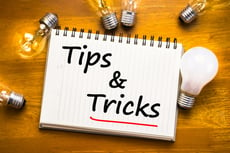 Has your organization jumped on the blended learning bandwagon, yet? This formal- and informal-learning combination approach to training moves beyond "hot trend" – it offers the opportunity to support learners after structured events end.
We focus quite a bit on the instructional design required for this more comprehensive learning model. It makes sense. Blended programs include many moving parts, and the associated complexity requires thoughtful design. After all, we have to create an environment that supports learner engagement and knowledge retention, and this begins at the proverbial drawing board.
But, facilitation matters, too. Design helps us plan for program success. Solid instruction enables that success.
Our team offers three tricks facilitators can use when leading learners through a blend:
Communicate! It sounds exceedingly simple, but facilitating a blend should include a foundation of clear communication. Connect with stakeholders and designers to understand program objectives and components prior to launch. Think through questions like, "How will we know if the program achieved its goals?" and "Which points do I support within a larger blend?" These discussions allow you to adequately prepare for the complex instructional experience. We also recommend that you engage with learners before program kickoff. Clarify key components of a blend (consider using these 9 terms consistently for overall blend impact). Define expectations about attendance, completion, and participation. Be sure to share session and resource access details. Facilitators have the unique ability to create a positive learning experience, and thoughtful communication empowers learners and learning leaders alike.


Move from "sage on the stage" to "guide on the side." At InSync, we promote the idea of a personal learning journey. In the modern blended classroom, we acknowledge that each learner has a personal mission. A single training cohort will include a variety of learner skillsets, experience levels, and objectives. A facilitator must not only teach content, but also guide learners on their individual journeys. They must prepare to connect self-paced content to collaborative and hands-on exercises, rather than simply lecturing. Obviously, some content, especially technical material, requires formal lecture. But blends offer the opportunity to incorporate socialization and practice into live learning. During these activities, facilitators often answer material questions and help learners think through the applicability of material to their jobs. A facilitator guide can help coordinate this new, more supportive instructional style.


Upskill if necessary. Many blends leverage multiple instructional methods, as it allows designers to match learning objectives with the most authentic delivery option. For facilitators, this means mastering and managing different technologies and platforms. Again, communicate with designers and managers to understand what technical proficiencies you will need. Give yourself the latitude to learn how to navigate these tools to ensure your comfort in this new environment. For example, if you come from a traditional classroom background, and formal events that don't take place live or online, enhance your virtual classroom facilitation skills. Additionally, request rehearsals and blend walk-throughs. They can make a world of difference in improving your teaching plan.
The best blends include memorable instruction. When learners feel guided through the entire learning process, they can more confidently navigate the blend.
What is your tried-and-true tip for facilitating modern blended learning? Share it in the comments below!