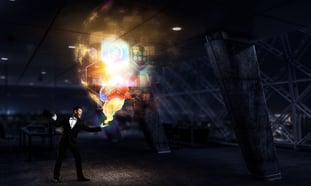 Did you know? The 2019 LinkedIn Learning report discovered that learning leaders ranked
"increased engagement with training programs" as their second most important focus area?

Would it surprise you even more to learn that, despite the perceived importance of increasing
engagement in learning initiatives, this same study revealed that L&D professionals only spend
"15% of their time promoting their programs?" Understandably, solid instructional design and
memorable delivery often occupy our efforts, frustratingly leaving little room for marketing considerations.
With this conundrum in mind, InSync Training invited marketing and learning expert Amy George to join the Virtually There webinar series. In just over 45 minutes, Amy explored ways that L&D practitioners can apply proven advertising and consumer marketing best practices to training.
Session Basics
Think about the excuses employees make for resisting training. Amy conceded that you've likely heard feedback like:
"I just don't have time for training."
"I wasn't aware that course existed."
"Training isn't for me. I'm too experienced for it."
Combatting these frequently-heard complaints requires innovative thinking and creative approaches. Enter marketing magic tricks that can transform your training strategy. Amy walked through processes for:
Grabbing attention with advertising tricks.
Making the value proposition pop.
Capturing moments that matter in the modern learner journey.
Empathizing with your learning audience.
By walking through each process using examples from advertising, applying it to a learning & development example, and then showing it in her own work, Amy practically and clearly demonstrated that each marketing approach has clear value to engaging learners before, during, and after the learning journeys we create for our organizations.
3 Key Takeaways
Marketers and advertisers, like learning professionals, spend years developing skill in their specialty. But with a few minor updates, we can make a major impact on how learners receive our programs. In thinking about the work we do at InSync, and the practitioners we support, three recommendations stood out to us as particularly powerful:
"Our course descriptions are like our packaging. It's how we're getting attention for something we know to be important and helpful for people."The grocery store initially seems like an odd place to draw inspiration for our training content promotion, but Amy explains we can learn a lot from frozen pizza boxes. We tend to give too much nitty-gritty detail in course descriptions about the learning experience – the equivalent of the nutritional information. If our eLearning course were a bag of chips, that offering would not appeal to consumers and would not fly off the shelves. Instead, course descriptions need to become more sensorial, using simple language that quickly captures attention and compels learners to want to learn more.
"Use the 'f' word!" Free! If you've ever shopped at a Costco, you've seen the phenomenon of people crowding around a table to snag a complimentary taste of granola or spinach dip. Logically, we know that no one walked into the store craving a small, random snack, so why does this happen? When something is offered for free, people believe there's no downside to participating. Training can use this model, too. If your organization offers a blended program that includes coaching, for instance, promote it by highlighting, "enroll in the virtual learning program, and receive FREE coaching!" The program itself did not change, just the way you positioned it to the learner. Amy's advice comes with a caveat, though. Use this tip sparingly, so as not to cheapen the perceived value of learning.


"We aren't good at the empathetic interview – looking at learners as people, and learning about their experience as a user." Instructional designers and training practitioners have gotten very good at completing Needs Analysis. They summarize learner needs and inform design decisions and establish evaluation processes. But Amy points out that we fail to ask about feelings. This next step does not have to revolve around the warm and fuzzy. It can focus on the experience. Ask one or two learners how they feel about learning, what their environment was like when they registered and enrolled in a program, which skills they think they need to succeed on the job. These insights from a few can help you improve the processes for many.
Next Steps
Amy shared detailed examples of how training can take a page out of marketing's book to achieve greater learner engagement, and this blog simply scratches the surface of her expertise. To continue the learning beyond this blog, we suggest you:

1. Watch the recording of Marketing Magic Tricks for Your Training Strategy.

Benefit:

Watch Amy George's entire Virtually There session replay to move beyond the high-level take-aways shared here and take a deeper dive into her four marketing magic tricks.
2. Download the related infographic Can Marketing Work Magic for Your Strategy?

Benefit:

We love a good job aid, and this infographic condenses Amy's strongest suggestions into a helpful resource you can bring to your desk. It's great for sharing with colleagues or decision makers to get them asking big questions to drive all-important learner engagement.
Don't miss the next expert-led Virtually There session. Visit the series page to register for upcoming complimentary events that align with your personal learning goals.